Your seat number is… Slingo!
All Slingo fans to terminal 5, because we have the flight of a lifetime for you! This wondrous instant win version of the famed slingo formula comes with an eye bulging 10,000x your bet! An ingenious game formula, Slingo Airways continues the Slingo tradition of binding bingo and scratch cards: players must cross of 5 numbers in a row for a slingo. Each slingo gained gets you a token for one of the 7 exotic locations! Should you get the 3 tokens for one location, you'll be finding a prize on your lap as you leave the plane! With a rapid pace dedicated only by you, this instant win format allows for a game that all real money gaming fans will love.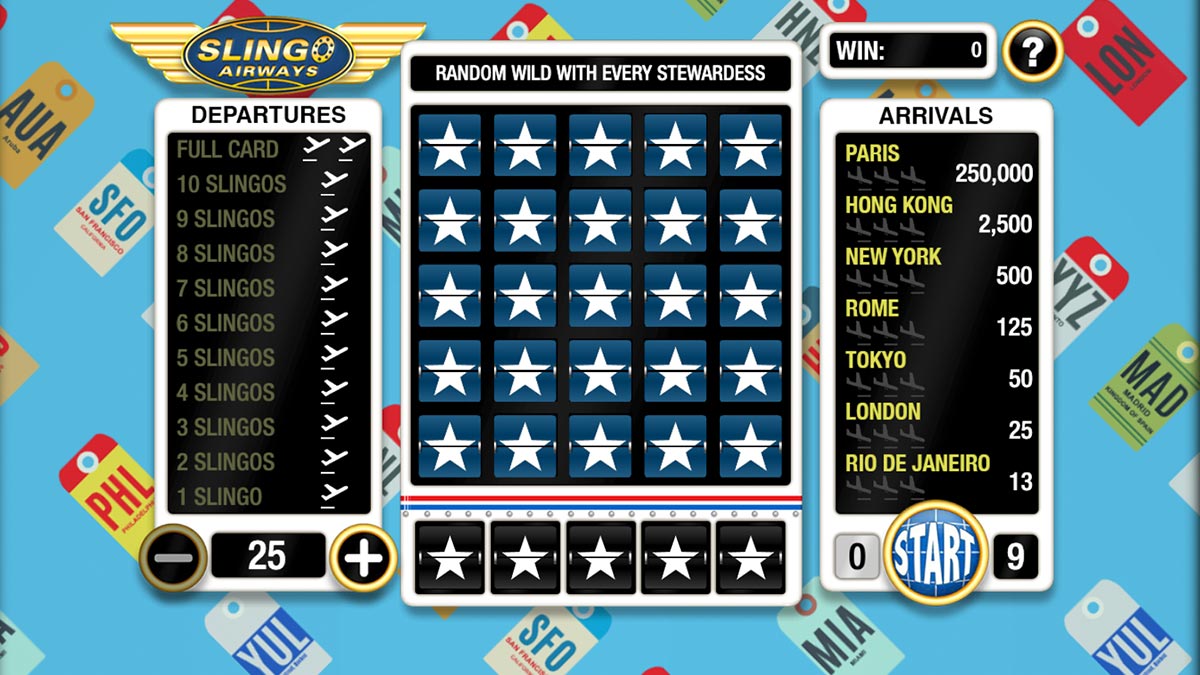 Begin boarding your way onto those wins!
Select your stake, press 'Start Game' and begin your trip. You have 9 spins at your disposal to match the numbers on the grid with the numbers on the reel. Getting a slingo gets you a token and getting 3 tokens for one location gets you an instant cash prize!
A familiar crew
Onboard your flights to lovely locations and wonderful wins, some familiar faces will be seen along the way, displaying their skill and helping craft the fantastic slingo experience:
Joker: marks off any number from the column above
Free Spins: add an extra spin to your total
Devil: block potential matches on the grid
A win to be remembered!
Slingo Airways not only has all of these fantastic features, but also comes with no limit on purchasing extra spins! Allowing your holiday and flights to go on as long as you want them to, leaving you nothing but a great time of memories and wins!