The great celebration of Slingo, spins, and fun!
Get ready to celebrate and join the parade with Slingo Carnival Bonus! This vibrant game brings the wondrous world of slingo onto the parade grounds! Twirl the slot reel to cross of numbers on the 5×5 grid, marking off 5 in a row gets you a slingo, pushing you up the win ladder and giving you the chance to attempt the bonus rounds! Can you reach the top of the carnival?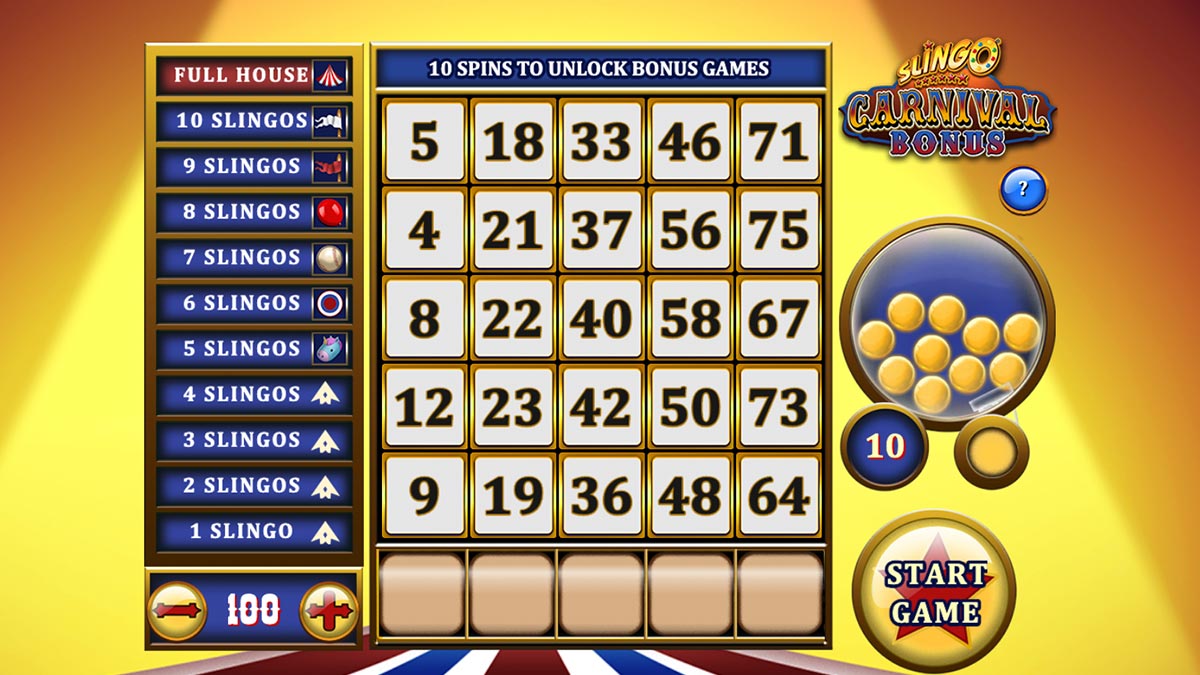 The gang's all here!
No Slingo game is complete without the classic slingo cast! Slingo Carnival Bonus is no exception and your celebrations will only be further enlarged by the presence of these familiar faces:
Joker: marks off any number from the column above
Super Joker: marks off any number from the entire grid
Devil: blocks potential matches on the grid
Free Spin: adds an extra spin to your total
Prize Bonus
Get 5 slingos and you'll find yourself in the Prize Bonus, giving you the chance to select one of three stuffed toys. Be prepared though, although all the toys have multipliers some will be larger than others, so pick carefully!
Target Shooting Gallery Bonus
At 6 slingos you'll be grabbing a gun for the Shooting Gallery Bonus, giving you the chance to pick from 50 targets to have the chance of winning multipliers in 4 rounds ascending in multiplier size from x0.5 to x10.
Bottle Toss Bonus
With 7 slingos there is the chance to get even more multipliers by knocking down the correct bottles to reveal multipliers or extra balls. Getting all the multipliers and having spare balls will further increase your wins to greater heights! So let's hope your aim is as good as it used to be!
Balloon Popper Bonus
Having 8 slingos under your belt gets you a ticket to balloon popping, another entertaining and fresh picking game as the last, but with greater stakes: as you not only have more shots, but also the ability for an even higher multiplier should you keep enough picks in reserve!
Coaster Climb Bonus
Let's hope you're not afraid of heights at 9 slingos, because you'll be zooming up the roller coaster here. Spin the wheel to ascend up the track until you spin a star, getting you higher multipliers as you incline.
Log Ride Bonus
The fun truly nears its apex here with 10 slingos! Much like the Coaster Climb bonus, you spin a wheel to get higher and higher rewards until you spin a star. However, this wouldn't be number 10 without a major difference: All rewards are doubled here, so you best get spinning down that log ride!
Pavillion
Collecting all the slingos is no easy feat, but getting here means you've succeeded! Now to take your rightly earned reward, spin the wheel to get a multiplier of up to x1000! A truly astounding experience in this wonderful carnival.
Unlimited Extra Spins
Not only does this beautiful and vibrant experience offer a variety of gameplay, but also the ability to play on and on! With unlimited spins, your chance to grab those slingos goes up, up and up! Just like the balloons dotted throughout the wondrous Slingo Carnival!