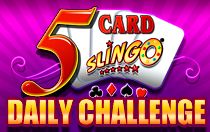 Step into a world of high-rolling Slingo fun! Put your 5-Card Daily Challenge skills to the test in this all-new take on our most popular poker game ever!
How To Play
Playing 5-Card Daily Challenge (Rules)
Spin the reels to draw five cards, then place them on the board to make pairs, flushes, and other winning poker hands. Choose carefully! Once you place each hand on the board and hit the done button, you can't move them for the rest of the game.
Keep spinning the reels and placing cards to make winning hands until the entire board is filled. At the end of the game, tally up your score, and see where you stand on the 5-Card Daily Challenge Leaderboards!
The Debonair Devil and the Charming Cherub
All bets are off when the Slingo crew goes to Vegas! The Devil, Joker, Super Joker, and Cherub are in it to win it! Keep an eye out for these well-dressed characters, as they may have valuable tips, tricks and hints to increase your Poker Prowess!
Daily Challenges and Power-Ups
Think you can get a Four of a Kind? Three Straights? Five Flushes? Complete today's Challenge Hands to beat the 5-Card Slingo Daily Challenge and receive big Rank Point and Slingo Coin Jackpots. Don't worry, you'll have a new line-up of fun, game-changing power-ups every day to help you!
Scoring
From Pair to Royal Flush, make difficult, rare hands for huge point rewards:
Pair – 500
Two Pair – 5,000
3 of a Kind – 25,000
Straight – 100,000
Flush – 250,000
Full House – 500,000
4 of a Kind – 1,000,000
5 of a Kind – 2,000,000
Straight Flush – 1,500,000
Royal Flush – 2,500,000
Time Bonus
The faster you play, the more points you get!
On the right side of the screen, look for the stack of chips. That stack will display your current time bonus. The stack starts at 4x, which means your final score will be multiplied by 4.
Keep an eye on it though! The longer you play, the smaller a modifier you'll get. Be sure to play as fast as possible!