Saddle up, Partner! It's time for Slingo Gold Rush Daily Challenge, the latest high-ridin', crate-blastin', rootin' tootin' game from the fine folks at Slingo.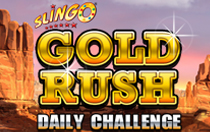 Match crates, wrangle bonuses, and track down that Darn Devil to beat the Daily Challenge score before time runs out!
Give the reels a spin using the "Spin All" button, or by clicking on individual reels. Match numbers on yer reels with numbers on crates in the middle of the screen. The faster you match, the more points you get!
Making Slingos
Match 5 crates in any direction to hog-tie yourself a Slingo. Matched crates will bust and new ones drop in.
Scoring
Make a Match – 250 Points
Detonate a Crate – 500 Points
Make a Horizontal Slingo – 5,000 Points
Make a Vertical Slingo – 7,500 Points
Make a Diagonal Slingo – 10,000 Points
Make a Pivot Slingo – 15,000 Points
Get 10 Slingos – 100,000 Points
Get 20 Slingos – 250,000 Points
Get 30 Slingos – 500,000 Points
The game icons
JOKER – Matches any crate in that column.
SUPER JOKER – Matches any crate in any column.
"TEX" JOKER – Matches all crates in that column.
DEVIL – Steals your matches! Find a Cherub by spinning the reels to chase him off!
Power-Ups
Every day, our Code Cowboys wrustle up new power-ups and challenge scores. Here's a smatterin' of the power-ups you'll
see in Slingo Gold Rush Daily Challenge:
Blast Mode – Trigger Blast Mode for a Joker stampede! Match squares quickly to trigger Blast Mode for
10 seconds. During Blast Mode, all the reels turn to Jokers. Rope 'em, cowboy!
Bonus Jokers – Add a bundle of extra Jokers! This here power-up increases the number of Jokers in
the reels. Saddle up!
Boom Box – Match adjacent squares! Whoa, Partner! Match the Boom Block to blast adjacent squares.
Get a combo by pairing Boom Blocks together!
"Pistolero" Jokers – Every so often, when the mood strikes him just right, ol' Pistolero will take a pot
shot at a nearby square. Keep an eye out on account'a he can trigger chain reactions for big points!
Rocket Box – Match for an Instant Slingo! Match the Rocket Block to get an instant Slingo in that
there column. Line 'em up!
Slingo Vision – See the matches! Spot the exact matches from yer reel to the matrix.
Time Bonus – Add time to yer game! Keep yer game going for a spell by grabbing the hourglass power-up.
Each Time Bonus gets you 2, 3, 5, 10 or even a rare 15-second time bonus. Gitty up!