Are you ready for the next Slingo challenge? Slingo Quest takes your favorite Slingo game the next level and introduces brand new fun ways to play! Get Super Slingos on the multi-card games. Check out the Bounce Slingos that rebound off of walls. Take on the Pirate in Pirate's Fortune. All the classic Slingo fun you know and love, plus brand new ways to play! Start your Slingo adventure today!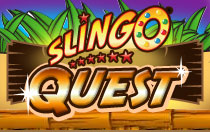 The objective of Slingo Quest online is to accumulate the highest number of points by trying to cover all the numbers or patterns on your game card in 20 spins or less.
Playing Slingo Quest
At the start of the game, you are given a card with 25 numbers (five columns of five numbers). Under the numbers are five wheels corresponding to each of the five columns. When the button flashes "SPIN", click it to produce random numbers and game icons in the five wheels and use the mouse to match it with the columns above.
There are a total of five levels, if you don't complete the pattern on any level the game is over. Make it to the fifth level and win big!
Game icons
The more blocks you clear off in one click, the more points you earn.
JOKER – can be used to match any number in the column they appear. If 3 or more jokers appear during 1 spin, you are awarded bonus points
SUPER JOKER – can be used to match any number on the card. You must place the Super Joker before you can match other numbers or Jokers.
DEVIL – will take away one-half of your points.
CHERUB – may appear and chase the Devil before he can take your points.
GOLD COIN – adds 1,000 points to your score.
FREE SPIN – is saved automatically so that you may use them to buy spins 17-20 instead of using your points. You can accumulate a maximum of four Free Spins in a game.
PATTERN – all the numbers need to be matched inside the pattern to win points or move onto the next level.
KEY – adds 1,200 points to your score.
Power-Ups!
MULTIPLIER – If 2x, 3x, or 5x appears in a cell, this multiplier stays throughout the level. If it appears in the wheel, it scores solely for that spin. Multiple multiplier amounts are added together for a single multiplier.
DEVIL PROTECTION – automatically blocks any future devil events in the level.
SLINGO VISION – automatically highlights numbers to be matched, only lasts for a determined number of spins.
BOUNCE SLINGOS – 5 in a "row" on an angle that reflects from along the edge.
ALL SPINS FREE – Spins 17 – 20 are free.
BONUS FROGS – Random cells on the matrix that award the player 5000 bonus points.
Making Slingos
A SLINGO occurs when five numbers are covered horizontally, vertically, or diagonally. There are 12 possible SLINGO's in every game and each SLINGO earns 1,000 points.
Spins 17 to 20
For some levels, you must use points to buy spins 17 – 20 or you may use any Free Spins that you have accumulated. If you do not have a Free Spin or enough points to buy a spin, you will not be able to continue in the game.
Scoring
Making a Match – 200 Points
3 Jokers in one spin – 1,000 Points
4 Jokers in one spin – 2,500 Points
5 Jokers in one spin – 10,000 Points
Gold Coin – 1,000 Points
Slingo – 1,000 Points
Key – 1,200 Points
Pattern – 5,000 Points
Full card points
Spin 12………..11,000 Points
Spin 13………..10,000 Points
Spin 14…………9,000 Points
Spin 15…………8,500 Points
Spin 16…………8,000 Points
Spin 17…………7,500 Points
Spin 18…………7,000 Points
Spin 19…………6,500 Points
Spin 20…………6,000 Points