Go All-In for 12 Way Poker!
If you ever imagined the most perfect, most exciting poker-themed video slots game possible, you'd have come up with Slingo's very own 12 Way Poker. This thrilling slots game gives you 12 ways to win big!
With 12 Way Poker, you spin up poker hands based on a standard deck of playing cards, plus one Joker and one Super Joker. You can bet from one to 20 credits per line, on up to 12 lines at once – horizontal, vertical, and diagonal. Go ahead and spin, then cross your fingers as the cards flash by and you wait to see what turns up. You win based on the poker hands you make, from just 1 credit for three of a kind, all the way up to a whopping 10,000 credits for a natural royal flush!
And we've added in two fun Bonus Games, as well, to bring even more Slingorific fun and give you more great ways to win. (Hey, maybe we should have called it 14 Way Poker!) In Hi-Lo, you have five cards to flip over, guessing in between each one if the next card will be higher or lower in value. And for Beat the Dealer, pick which cards go to you and which to the dealer and try to beat him every time!
So go ahead and put on your lucky socks, then get ready for an exciting round of 12 Way Poker right now. You'll definitely have a great time – and you might just win a jackpot of Slingo coins, too!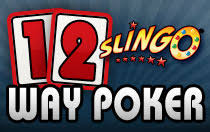 Slingo Poker is a Video Slot game played with a 54 card deck including one Joker card and one Super Joker card (wild cards) and a Free Spin option. It uses a 5×5 matrix with 12 ways to bet (horizontal, vertical, diagonals). Players can bet up to 20 units per line. The objective is to:
Accumulate winnings by getting the best poker hands possible on the lines bet
Accumulate extra winnings in a bonus game (if reached)
Gameplay
Game starts with Payouts screen and explanation of game play. Player can bet from 1 to 20 units per line. Bets can be made on the following lines.
1 Line (Horizontal), 3 Lines (horizontal), 5 Lines (horizontal), 7 Lines, (horizontal and diagonals), 12 Lines (horizontal, diagonal, vertical)
Payout combinations are indicated by colored boxes drawn around each winning symbol on that line and displayed one at a time
Payouts are processed after the spin is taken and displayed in Paid field
Paid amount ratchets up into Credits field
Bonus games
Players with qualify for the Bonus Game if they receive a natural Flush on a line bet – wild cards not applicable. A natural flush triggers a Bonus game Indicator with graphics and sound. If players get more than one flush they receive a Bonus Multiplier equal to the number of flushes they received. Players in the Bonus games are also rewarded with a random multiplier.
Hi-Lo
Five Large cards from a 52-card deck are dealt before the player. One will face up and the other 4 will be face down. The player will start with 5 credits. For each card that appears from the left to right, the player has to decide whether the next card that is turned over will be higher or lower than the card that currently shows. The "Ace" is always considered the highest card and the "2" is always the lowest. The player clicks on HI (for higher) or LO (for lower) to make their guess. If they are correct, they DOUBLE their total points and move on to the next card. If it's a "Push" (this means both cards have the same value) it's a no win, no lose situation and they just move on to the next card. If the player is incorrect, the game ends and they receive a Consolation bonus of 5 units. The player's bonus is multiplied x bet per line x Flush multiplier (if applicable) x animated random multiplier (2,3,4,5). The player can "Cash Out" and leave the Hi-Lo Bonus game with their current total winnings at any time by clicking on the CASH OUT button.
Beat the Dealer
A total of 10 cards out of a 36-card deck are dealt (2-9 + Ace). Player starts with 0 credits. The player selects one Dealer card and one Player card until all cards are used. On each selection, if the player's card is lower than the Dealer's – the player loses that selection, or if the Player's card is higher than the Dealer's card – the player wins the difference between the two cards. Ace = auto win (15 credits). There is a minimum bonus of 5 units.
Line bonus
Player starts with 0 credits. Player is dealt 25 cards (facing down) from a 36 card deck (2-9 + Ace). The player then chooses 5 cards to turn over (one at a time) and wins the value displayed on the card. Ace = auto win (15 units). After the total number of cards allowed are turned over, the player's total Bonus winnings are multiplied x bet per line x Flush multiplier (if applicable) x animated random multiplier (2,3,4,5)
Slot payouts
3 of a Kind – Pays 1 Units
Straight – Pays 5 Units
Flush – Pays 7 Units
Full House – Pays 9 Units
Four of a Kind – 11 units
Straight Flush – Pays 50 Units
5 of a Kind – Pays 50 Units
Wild Royal Flush – Pays 120 Units
Natural Royal Flush – Pays 10,000 Units