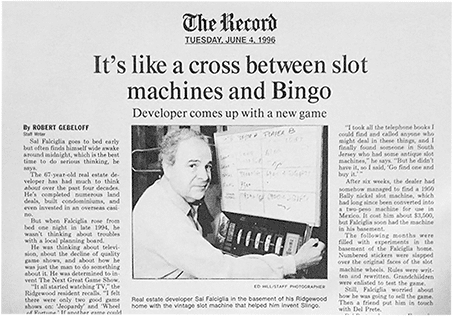 The play area resembled a Bingo card filled with numbers. Click the 'SPIN' button and an additional row of numbers and symbols would tumble, like a slot machine's reel. When the reel stopped, you matched the numbers to the card above. Three graphical icons also tumbled through the reel: a Joker worked as a wild card; 'that darn Devil' would cut your score in half, and the Cherub cancelled the Devil's punishment. Each line filled earned you a "Slingo!" and a bucket of points. You had 20 spins to fill your card and get as many points as possible. Within days, it was the #1 game on the largest online provider in the world.
Twenty years later, Slingo has been on nearly every entertainment platform out there: slot machines, Facebook, handheld devices, scratch lotto tickets, and smartphones. Odds are you've played some version of Slingo, or at least seen a Slingo ticket hanging behind your local convenience store counter. But where did this near-ubiquitous property come from? And what does it hope to become in the future?
This is the story of Slingo, as told by those who know it best.
Interviewees
Craig Falciglia

Director of Business Development, Slingo Inc.

Sal Falciglia, Sr

Inventor of Slingo

David Hoppe

General Manager at Blastworks

John Ricci, Jr

Producer and co-creator of SLINGO game show pilot

Patrick Southon

CEO of Gaming Realms

Dan Lamond

Designer at Gaming Realms
1. ORIGIN
"It all started on a 1950 slot machine."
CF

"My grandfather has always been very big into Bingo and slots. He's been a gambler in the casino space for quite some time. His mother used to play Bingo at Foxwoods in Connecticut, which at that time used to only be a tent."

SF

"My mother and I loved to play Bingo."

DH

"Sal had a history in the casino industry … he was a high roller."

CF

"In 1993, my grandfather and my brother were on a plane coming back from Paris."

SF

"I was sitting with Craig's brother, and I said, 'When we go home, I'm going to try and do a game for television.' The only game that was really good at that time was Wheel of Fortune. And Jeopardy, of course."

SF

"I was semi-retired at the time."

SF

"I thought of matching [Bingo] and tying it together with a slot machine. So I started fooling around with it. I spent hours, days, trying to put the Bingo game together with a slot machine. My wife thought I was crazy. I played the game many many times in my head. It seemed to work. But I couldn't put it together."

SF

"At 2 o'clock one morning I woke up. For some reason, don't ask me why, I ran into my office, and I figured out how to tie a slot machine with the game of Bingo. And I wrote everything down on a yellow lined pad. The next morning I had my secretary type it up for me."

SF

"I needed a five-reel slot machine. Because a Bingo card has five columns. Each reel would go with one column."

CF

"He found an antique slot machine dealer in New Jersey, and that company found a 1950 five-reel slot machine in Mexico. And it was shipped to his house in his basement."

SF

"The machine was all in pesos. It was a Bally slot machine, made in Chicago, but operated in Mexico. The whole machine was in pesos."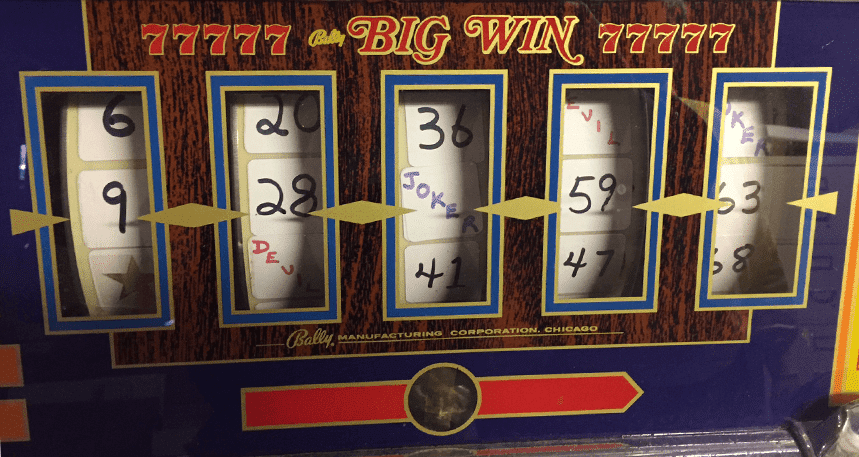 "The characters and rules players know today were all there from the very beginning."
CF

"He went into the reel symbols, removed all the symbols. He made stickers with numbers 1 to 75. He had a gold star, which was the gold coins. He had a free spin, and he had Jokers and Devils on there, and a Cherub."

CF

"You would actually spin the reels, and you would have a normal Bingo card in front of you. You would take a spin and you would match your numbers on the bingo cards."

SF

"I wanted it to be approximately a 20-spin game. I pulled that lever… about a million times. Then I couldn't lift it anymore. Craig was only about—I don't know, 12?—and his brother, I enlisted them to pull the lever for me. And I would document the spins. And, oh, we did that for days."

SF

"Today, there are computers that can do 10 million spins an hour. I was doing it manually."

CF

"When we were younger, my brother and I would sleep over at his house and we would play in the basement until 11 or 12 at night."

SF

"The machine worked."

CF

"Some of the greatest times we had as a family has been in the basement playing the game, Slingo."

SF

"After I thought I had it balanced, I had [Craig and his brother] play against each other. If he lost a game to his brother, he wasn't very happy. That I remember. Every once in awhile, he'd run through the basement, go upstairs to the kitchen and stay with my wife because he didn't want to play anymore 'cause he lost."
2. AOL
"The other four guys said, 'Let us think about it…"
Sal and his family knew they had a hit. Now they just needed to share it with the world.
DH

"In the early days, he had a small team of folks there in Hackensack who realized that they had something."

SF

"The machine worked. I had pages and pages of documentation. Then I said, 'Okay. How can I possibly show this game?' I can't carry a slot machine around."

SF

"I decided to have a computer prototype made of the game. Which was very expensive at that time. I found a young man in New York state who did programing. I contacted him, he came to the house a number of times. And he programmed it for me. Now I had the game on a computer. Now I was able to show it."

SF

"The same man that programmed it, he said to me, 'Why don't you take this game to AOL?' AOL has a games channel and they're just starting to do very well. They had millions of people on AOL playing games."

CF

"Once he came up with the idea … he went down to Virginia to demo the game for five AOL executives."

SF

"They played it on the computer themselves. One young man, I'll never forget this, he said, 'I think the game is a black hole.'"

CF

"Black hole means a dud."

SF

"The other four guys said,' Let us think about it…' Within 2 days, I got a call from AOL. They said 'Alright, why don't you come down. We'd like to do a contract.'"

CF

"Boxer Jam was the #1 game on their site. Then Slingo launched."

SF

"Slingo went immediately right to the top. It was the #1 game on AOL for at least two years or more. Millions of people played."

SF

"I got a call at 12:30 in my office one day. It was a lady from Florida. She said to me, 'My girlfriend and I, we work for a insurance company. We love playing Slingo.' I said, you play during your lunch hour? 'No, we play while we're working!' I said, 'Miss, please do me a favor. Don't play the game while you're working. It's not fair to your employer.'"

SF

"There was a man in Massachusetts and a woman in California—they met playing Slingo. While they were playing the game, they would chat online. They ended up getting married. We sent them wedding gifts."
3. SLOTS, SCRATCH TICKETS & SLINGO.COM
"The majority of my friends at the time had no idea."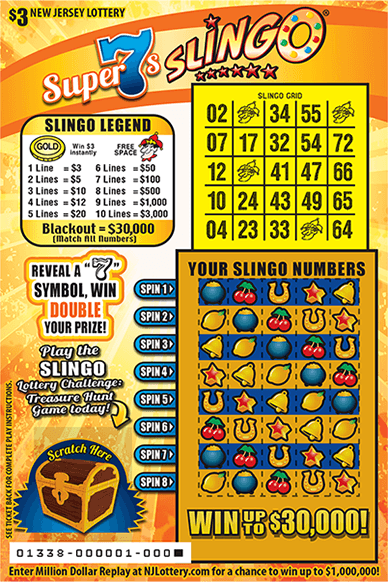 Once Slingo was a success on AOL, Falciglia moved to broaden their reach.
SF

"I contacted IGT, International Gaming Technology. They were the largest slot machine manufacturers in the world. So I went out to Vegas and met them for breakfast. I showed Joe Camicow the game. Joe said, 'I like it. I want you to make an appointment and show it to my people at IGT in Reno.'"

SF

"I'll never forget this. They had this one big conference table. I never saw a conference table so big. It must have held fifty people around it. I was supposed to demonstrate the game."

SF

"Finally these two men walk in the room. The man in front was [chairman of the board] Chuck Mattheson. He had jeans on, a cowboy shirt on, cowboy boots on, and he had a very large silver buckle in the front. And his assistant was dressed very similar."

SF

"He walked over to me. He said, 'Do you know why you're here?' I said, 'Yes to show you and your people the game.' He said, 'I'm going to tell you another reason why you're here. My son, who lives in San Francisco, plays Slingo all the time. And he loves it. He called one day—this is true—he called me one day and said, 'Pop, why don't you take a look at Slingo? I think it'd make a good slot machine.'"
In 1999, with the help of Dave Lyons, the first Slingo slot machine launched in a partnership with Caesar Entertainment and IGT.
CF

"At the time, Dave Lyons worked with Bally's Atlantic City. He was head of slots there. Dave Lyons took the game, Slingo, and figured out how to incorporate the game into the Vision Series game with IGT."

SF

"They took their most popular game [Wheel of Fortune] and, on the last reel, they put a Slingo logo. So then, if the Slingo logo comes up on the last reel, the player goes into a Slingo bonus game. And that worked out fantastic."

CF

"It was a three-reel slot machine that had an LCD screen in the top left, where the bonus game would be played."

CF

"[Lyons] was really one of the main people that helped Sal get the product into the casino market… He was my mentor. We hired him and he basically taught me a lot of the stuff I know now."

CF

"The brand will get you to the game. The gameplay keeps you playing. The math makes you come back."
In 2001, with the help of Scientific Games, they started producing the first Slingo-branded scratch lotto tickets.
CF

"That's one of our biggest markets that we have. That's where most people recognize Slingo from."

DH

"Here's the story I always tell about Slingo: I talked to a guy Steve Saferin, runs the lottery business at Scientific Games. They print about 40-50 million tickets a year across all the jurisdictions, all the major lotteries. Steve Saferin will tell you that there's three brands that are evergreen for him, year after year. One is Major League Baseball. One is Monopoly. The third is Slingo."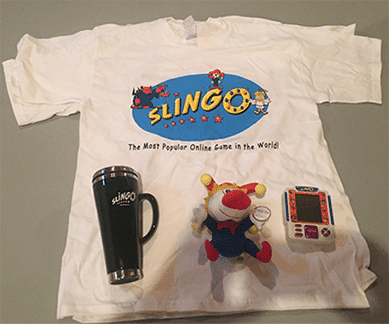 Slingo.com launched in 2002. AOL was no longer the only place to play. Slingo was big enough to stand on its own.
SF

"We must have received… thousands of thousands of emails from people. 'The minute I get home from work I play Slingo.' 'Before I go to work I play Slingo, 'cause it relaxes me.'"
SF

"We very often sent Slingo shirts to the servicemen in Iraq. They sent us the pictures."

CF

"A bunch of servicemen wore Slingo shirts and took a picture right in front of the Saddam statue that was destroyed."

DH

"I used to work for MSN games. We had a series of web games on MSN, [which] used to be The Zone. It was probably 2007 when I first played Slingo on MSN Games."

DH

"Unless you play Slingo for awhile, it was hard to see the appeal. But I could never argue with the numbers."

CF

"You would accumulate coins which could be used to play other games."

DH

"Once you play it, you start to get the sense of, 'Wow, there's really a whole lot here.' And I get why people come back to it day after day after day. Because that's what people do."

SF

"What the people were playing for was bragging rights."

CF

"It wasn't that you were just playing a game. You were playing a game with your friends and family."

SF

"One lady said, 'I should put a urinal beside the computer because we don't want to stop playing the game.'"
4. THE GAME SHOW
"I envisioned for TV a big, big slot machine…"
Sal Falciglia invented a game for TV that became a phenomenon on computers, in casinos, and on scratch tickets. But somehow, the medium for which Slingo was made evaded them. In 2008, they finally pitched a Slingo game show.
CF

"When [Sal] came up with the idea, he really never thought of it to be an online game, or a casino game. His main goal was actually to make it a TV game show. When he came up with the game Slingo, that's what he was looking to do. The plan was strictly TV. But all this other stuff just fell into place."

SF

"I met with president of King World International in New York City. They had a whole floor of the building. He liked the game. And he said, "I want you to show it to the producer of Wheel of Fortune [Steve Friedman]."

JR

"I was brought in to help develop a game show based on Slingo by a wonderful gentleman, Steve Friedman. He used to be part of the Chuck Barris organization. The idea of a game show for Slingo was brought up by the Slingo people themselves."

JR

"The pilot was shot at KTLA stages in Los Angeles, now Sunset Bronson Studios. We shot for an entire day and taped a full pilot episode, top to bottom."

JR

"All contestants in a non-airing pilot get an appearance fee and do not win their prizes. This is what this was. A non-airing pilot also gives the producers the latitude to predetermine the outcome of events."
Ultimately, the pilot was not picked up for full production.
SF

"I showed [Friedman] the game. He liked the game. I honestly don't remember why they didn't take it."

JR

"There are many reasons game shows don't sell, so it's hard to pinpoint one reason. It could have been the time it was being pitched. Around 2008 game shows weren't back in style yet, so that could have been a factor."

SF

"It was the only platform that we ever tried that we didn't get on."

JR

"I was disappointed, but you have to understand, there are dozens of game show pilots that go unsold. I've worked on many. You pitch to everyone you can and when it doesn't happen, you're disappointed, but you simply move on to another project."

SF

"I envisioned for TV a big, big slot machine. Two people playing against each other on that slot machine. But it never happened."

CF

"We had a TV game show in the Philippines for a short period of time. But we've never really been on TV. That's one of the things we're interested in."

JR

"Game shows are making a comeback. As for Slingo, they own the show and it would be up to them to decide if they want to take it out again. You never know in this business! Anything can happen!"
5. SHIFTING FOCUS
"Mobile didn't even exist when Slingo was first developed."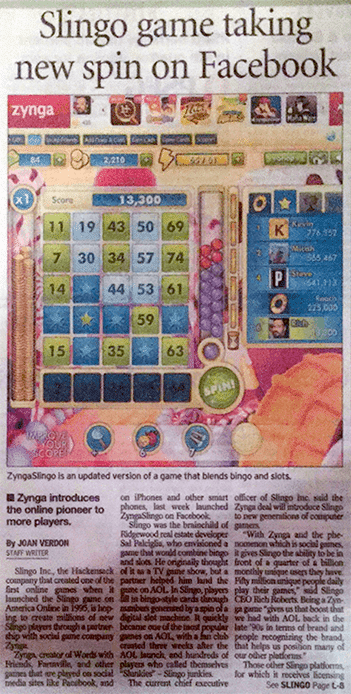 In 2012, Zynga Slingo launched on Facebook, quickly becoming one of the most popular games on the service. During its 18-month lifespan, it was the first to reach 54 million monthly active users (MAUs). One customer in particular had deep roots with the game.
DH

"[Craig] claims that he spent over a thousand dollars on Zynga Slingo when it was in the market. And that was of his own money."
The next year, RealNetworks bought the Slingo brand.
DH

"As part of the acquisition, there was a decision made whether to continue the [Zynga] deal or whether to build a brand-new game, wholly owned by RealNetworks. The decision was to shut down the Zynga game and build the game from scratch."

CF

"When we got acquired in July 2013, RealNetworks terminated the deal. Zynga had to take the game down within 30 days or so. RealNetworks built their own game, called Slingo Adventure."

DH

"The sole focus was driven by RealNetworks founder Rob Glaser, because he's the one who engineered the purchase. He took what's essentially an evergreen brand in Slingo and combined it with the emerging popularity of Candy Crush Saga-style games. He was very focused on creating this Slingo-meets-Candy Crush experience … to the exclusion of everything else that the Slingo brand had either built up or started over the years."

DH

"The team here at Victoria focused exclusively on building this social mobile game. The rest of the business languished."

DH

"Zynga contracted a bit and that studio shut down. A couple of guys that came out of that studio started their own company, Orbital Games. They produced a game that had very similar playstyle to Slingo but very carefully avoided any copyright or patent infringement.

DH

"It was a cute little game that we liked and developed a good relationship with these guys. [Instead of] fighting these guys, let's slap Slingo on it and turn it into a Slingo game. That's a game we've had in the market about a year and half called Slingo Shuffle. It's been doing very well for us."

DH

"Now that we're owned by Gaming Realms … we've gone back and re-looked at the brand and opportunities for licensing and are saying, 'Wow, there's quite a lot more here.'"

PS

"We initially licensed the Slingo game assets from Real Network so that we could build our own game, Slingo Riches. This game launched last April (2015) and quickly became our top performing game."

SF

"At one time, my office figured out that it one out of every 25 people in the United States had played [some form of Slingo]."
6. A FAMILY BUSINESS
Even though the brand has changed hands numerous times over the years, Slingo remains, at its heart, a family endeavor.
Craig Falciglia, the inventor's grandson, is still actively involved in business and creative decisions. But the game will always begin with Sal.
"Away from the office, he calls me 'Pop.'—Sal Falgicia

CF

"[Sal] married my grandmother with $13 in his wallet. He really didn't have running water or electricity at his house when he was younger. Where he came from and what he has accomplished is amazing."

SF

"I never had a computer of my own. Still, to this day, I don't have a computer."

DH

"He's a real creative guy; he's a real entrepreneurial guy. And really passionate."

CF

"He plays gin every day so that keeps his brain going. He's in really good shape for his age, to say the least."

JR

"I do remember Sal. He was a very nice gentleman and he was always included in our development process and we made sure he was happy with the direction we were taking the show."

CF

"He's tough. He's very tough. He's old-fashioned. But he's one of the most caring and one of the nicest people you'll
ever meet. You can ask anyone. If you ever need anything he's always there for you."

DH

"When he gets a hold of something, he's very … he puts a lot of love into it. You can see that in Slingo. He's cared about it for many, many years. And he would still like to see that game on TV one day."

CF

"One of the things about my family, we're very private. So the majority of my friends at the time had no idea. When I hear from people now, it seems like everyone has always played Slingo."

SF

"Craig always calls me Sal in front of everyone. Away from the office, he calls me 'Pop.'"

SF

"When I sold the company, no one at RealNetworks knew that Craig was my grandson. Months later, I get a phone call from the chairman, Rob Glaser, and he said to me, 'Sal, how come you never told me Craig was your grandson?' If he's gonna do it, let him do it on his own, and not on my name."

CF

"I basically worked there every summer. I would come home from school."

CF

"In the beginning, I was just game testing. So I would play new games, check for bugs. And then later on, I started getting more into designing games."

SF

"At the beginning, when he worked with me, we didn't get along. I used to tell him, 'You see that door out there? Go through that door and don't let the door hit you in the fanny when you go out. Don't come back.' He would come back."

DH

"I still rely on [Craig] to always be my sanity check when it comes to Slingo. If we produce a game or a prototype, I'm like, 'Craig do you like this game?' Craig will say, 'I'm not going to lie, I love it.' Or, 'I'm not going to lie. I hate it.' And at the end of the day, he tends to be right."
7. THEN & NOW
"We're really looking to take Slingo to the next level."
Gaming Realms is working to build new Slingo experiences across a broad range of platforms, and with them, create the next generation of Slingo fans.
The Slingo prototype sitting in Sal's basement

CF

"If you think about it, Slingo was the only successful Match-One game."

DH

"I get why people come back to it day after day after day. Because that's what people do. It's very much a break-time game."

PS

"A good game is a good game, whenever it's invented – look at cards!"

DH

"It requires as much or as little mental effort as you want to put into it. It's meditative in the way people play solitaire or the way people knit."

DH

"We seem to have a lot of nurses who play a lot of Slingo. You get a break, you can sit down and play for as long or as little as you want. And you get a fairly complete experience in very bite-sized chunks."

DL

"We set out to build a fast-paced, mobile-focused, single-player bingo game."

DL

"Most Slingo games had used a flat pay structure that awarded a fixed prize for each match and Slingo. But by using an exponentially increasing pay ladder, we could balance the reels in a way that can award small prizes regularly with big prizes very achievable every game."

DL

"There are over 33 million possible final grid configurations and we offer a price for all of them."

DL

"To be honest, I don't know of any other skill-based gambling games. That is something we are really proud of."

DH

"Slingo is a game brand just like Monopoly. Monopoly was born out of a single category. It was a board game 20 years ago. And then they started licensing it."

CF

"Slingo should be the next Monopoly. Monopoly is out there on so many platforms. They have the McDonald's games, the promotional games. There's no reason Slingo should not have that kind of distribution."
DH

"There's absolutely no reason why Slingo couldn't be in that same pantheon of brands that extend across mobile, retail, newspapers … it's a very simple game that could be applied to just about any medium and broken down into its component parts."

CF

"We're really looking to take Slingo to the next level."

SF

"You don't have to leave your home. The possibilities to me are endless."

CF

"Slingo has been very big in the United States. It was never big internationally. That's our main focus now. Bringing Slingo into the international market."

PS

"We're going to make it into an international gaming brand."

CF

"One of the reasons Slingo was so successful is because the player was always so close to getting a full card. That's really what got people enjoying the game. I think that was the hook: You're always so close to something happening."

SF

"Every time I go down in my basement, I walk over to the machine, and I still play it."