Double Your Fun with 2 Hand Poker!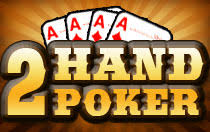 Slot-tastic 2 Hand Poker gives you the heart-racing action of slots, and lets you use your razor-sharp sense of poker strategy all in one fun package! In this terrific game, you spin up cards and then make the best poker hands you can, and that's no bluff!
You can play 2 Hand Poker in an 8 or 10 card version. It's easier to make terrific hands with 10 cards, but you'll score more points with fewer cards since it's a bigger challenge. To begin playing, place a bet of up to 25 credits per hand. Spin for your cards, and place them in up to three different hands up above. Each card can be used up to three times.
You don't have to fill in all of the blanks either, when you're done, the dealer will put down new cards. A simple high card or pair aren't going to win you any points in 2 Hand Poker, though – we know you can do better than that! Look for extra chances to build four aces or a royal flush to win the most points.
And as if the fun weren't enough, we give you a shiny reward for success, too. After every ten hands of 2 Hand Poker you play, Slingo will record the points you've earned and exchange them into Slingo coins to add to your collection.
So ante up and get started right away. The kings and queens of 2 Hand Poker are waiting to show you a great time!
Gameplay
When 2 Hand Poker begins, select the 8 Card or the 10 Card version. The 10 card version is easier and has standard payouts. The 8 card version is more difficult, but the payouts are greater. When the game starts, you can bet on one, two or three lines using the "Bet 5" or "Bet Max" buttons. The more lines bet the higher the chances of having a winning poker combination. After placing your bets click the "Deal/Draw" button and two Poker hands are dealt. Five cards are dealt to Hand 1, and three cards are dealt to Hand 2 (8 Card version), or Five cards are dealt to Hands 1 and 2 (10 Card version). You can combine cards from Hands 1 and 2 on the lines that you bet.
You can move cards by clicking on a card, then the square on the line you want to move it to. Cards can only be placed in the column in which they appear. Click on a card again on one of the betting lines to change your mind and make it disappear. You can then either duplicate the cards you placed to the next line by pressing the "Copy" button, or you can make new poker hands for each line from the cards below. The object is to create as many potential Poker Hand combinations as possible. When you are done placing cards, click on the "Deal/Draw" button to deal cards to complete the poker hands on lines 1 through 3.
Payouts (Credits)
Any winning poker combination will award you based on the paytable below.
8 Card
Royal Flush – 10,000
Four Aces – 5,000
Straight Flush – 3,000
Four of a Kind – 100
Full House – 30
Flush – 15
Straight – 10
Three of a Kind – 5
Two Pair – 3
10 Card
Royal Flush – 5,000
Four Aces – 2,500
Straight Flush – 1,500
Four of a Kind – 50
Full House – 15
Flush – 8
Straight – 6
Three of a Kind – 3
Scores are recorded to Slingo.com every 10 games.