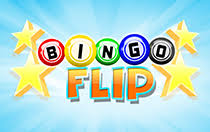 Bingo Flip combines Match-3 fun with the non-stop, don't-blink, no-holds-barred world of competitive Bingo. Match balls to daub squares on your Bingo card to make 12 possible Bingo lines for maximum points. Play every day to check out new power-ups and beat new scores in Bingo Flip Daily Challenge!
How to play
Make matches of three or more like-colored bingo balls. Every match earns points and reveals a random ball.
If that ball matches a number on your Bingo card, it is automatically daubed on that card. If your Bingo card creates a 5-cell line horizontally, vertically, or diagonally, you earn a Bingo. Earn up to as many as 12 possible
Bingos to receive bonus points and beat the Daily Challenge!
Scoring
Bingo Flip features the following point payouts:
Creating Matches

3 Balls in a Match – 30 points
4 Balls in a Match – 80 points
5 Balls in a Match – 150 points
6 or More Balls in a Match – 240 points

Additional Matches – any additional resulting matches that occur from a player match beyond the first will
have a score multiplier. The multiplier will be the same as the count of resulting matches. For example:

x2 for the second resulting match
x3 for the third resulting match
x4 for the fourth resulting match
and so on…

Making a Bingo (straight line pattern vertically, horizontally, or diagonally) – 1,000 points
Power-Ups
Bingo Flip features the following power-ups that players have the chance of collecting with each match made. Each power-up has an effect on the game to increase possible score:
Additive Point Power-Ups

Teddy Bear – +500 points for every match in the next 5 swaps
Rubber Duck – +1000 points for every match in the next 5 swaps
Lucky Penny – +2000 points for every match in the next 5 swaps
Red Ball – +1000 points for every red ball match in the next 5 swaps
Blue Ball – +1000 points for every blue ball match in the next 5 swaps
Yellow Ball – +1000 points for every yellow ball match in the next 5 swaps
Green Ball – +1000 points for every green ball match in the next 5 swaps
Black Ball – +1000 points for every black ball match in the next 5 swaps
Maggie's Magnifying Glass – +1000 points for every mystery ball match in the next 5 swaps

Multiplier Power-Ups

Maggie Gold – ×2 all scores for next 5 swaps
Joker – ×2 all Bingo scores for next 5 daubs
Cherub – ×2 all ball matches for next 5 swaps
Super Joker – ×2 all scores for remainder of game

Special Power-Ups

Time Bonus – adds 10 seconds to timer
Four Leaf Clover – 10% more likely to spin a bingo card daub number