Brasil Slingo Brings the Carnival to You!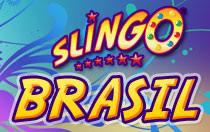 We're absolutely certain that Brasil Slingo is going to be your new favorite game. We've taken the Slingo basics that already won you over and shaken them together Carnival-style with some extra-spicy graphics and a zesty new way to play, and even we were surprised at how much fun it turned out to be!
Brasil Slingo is a three-spin slot game inspired by the streets of Rio de Janeiro. The board you play on has three lines of nine blocks each. With usual Slingo flair, the numbers you spin will match numbers on the board and fill it up fast. You get bonus points for filling up each line, for making a Big M or Big W across the whole board, and extra bonus points for completely filling up the whole board. Extra lucky Super Jokers can fill the whole row of your choice! If you get four or more Jokers in one spin, then you can cash in on even more Slingo coins – up to 50,000 all in one spin!
Brasil Slingo's got a sassy soundtrack, too, and graphics that will dazzle the eye and sweep you off your feet. Before you know it, you'll be itching to dance the night away with Brasil Slingo – every night of the week!
Brasil Slingo is so much fun you'll be spinning to win all night, and you'll keep coming back for more again and again. Dance on in and start playing right now!
Playing Brasil Slingo
The object of the game is to match all of the Numbers on the playing board with numbers appearing on the reels
below within the amount of spins given.
You are initially given 3 spins in order to match as many numbers as possible on the playing board. Click on
the "Spin" button to play the game. Each spin that you take will reveal numbers, Jokers, Super Jokers,
Gold Coins, or Free Spins in the reels below the playing board.
Each Free Spin you earn will allow you to take an additional spin after you take your 3 initial spins.
You can choose for the computer to auto-select your numbers by clicking on the Auto-Select button or you
can choose to match them yourself by leaving the button unchecked.
Covering rows of numbers or covering a "Big M" or "Big W" on the playing board will score bonus points.
Check the Payouts table for a list of all bonuses.
Hidden under two numbers on the playing board are Gold Coins, which will earn you a quick 100 Slingo Coins
each when that number is matched on the reels.
For each Joker that appears, the column of numbers above the Joker will be covered. For each Super Joker,
you choose which entire row of numbers to cover.
After every 5 games of Brasil Slingo that you play, your scores and Slingo Coins will be recorded to
Slingo.com. You may also hit the Quit button to end the game early and receive the Slingo Coins you
have earned so far.
Payouts
Each Square – 10
Coin – 100
One Row – 100
Two Rows – 250
All Rows – 1,000
Big M & W – 1,000
4 Jokers – 100
5 Jokers – 200
6 Jokers – 1,000
7 Jokers – 5,000
8 Jokers – 15,000
9 Jokers – 50,000