You'll Go Bonkers for Crazy 7s!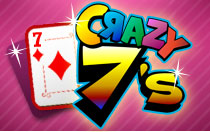 Want a game you can fall head over heels for? Have we got the thing for you! Crazy 7s is everything you'd ever hope for in a video poker-style slots game, and then some! Fast-paced, nail-biting action? Check! A super fun bonus round? Check! The chance to win truckloads of Slingo Coins? Double check!
Crazy 7s is fabulous fun, easy to learn, and super fast-moving, so you'll have fun every second you play. We just know you'll go crazy for it!
In each round of Crazy 7s you get a hand of five cards, just like in poker. You can choose which ones to hold and which to drop for new cards. Those crazy 7s are wild, so be sure to hang onto them when they show up. The idea is to make the best poker hand you can. The better the hand, the more you win!
And if you bet the maximum amount per hand – that's just 6 credits per hand – you'll get a shot at even more winnings in the Crazy 7s Bonus Round. Here you'll keep the 7s you already have and spin for new cards. The more 7s you end up with, the more you win, up to 10,000 credits for a hand with 4 of them! At the end of the game you can exchange your credits for Slingo Coins to add to your collection.
With Crazy 7s you'll be hooked for hours – it's so much fun you'll never want to stop. Come give it a try now and see for yourself!
Crazy 7's is a video poker-style game with a wild card – The Crazy 7.
Game start
To get the game started, click on "Bet 1" (up to a total of 6 credits) and then the "Deal" button, or just click on "Bet Max" for a 6-credit bet. These credits will be subtracted from your total "Credits" shown at the bottom of the screen. (Don't worry, you can't run out of credits in this game) When the cards are dealt, the poker part of the game is played like standard 5 Card Draw Poker in which you can choose to "Hold" up to 5 cards before you "Discard" the cards you don't like for more cards. Crazy 7's are wild cards and can represent any suit or number. Click on the cards you want to hold and a "Hold" light will appear beneath the card. If you change your mind about what cards you want to hold, just click on them again. When you click on the "Deal" button, the cards you decided not to hold will be exchanged for new cards. Once the new cards have been dealt, your best poker hand will be evaluated, as well as, how many Crazy 7's you have in your hand. If you bet the MAX BET and have at least 1 of the Crazy 7's in your hand, you can click on the deal button one last time. The object here is to get as many Crazy 7's as possible because the more you have, the bigger the payout. If you don't have any Crazy 7's in your hand or didn't BET MAX, the game is over. Every 20 games, your current winnings and Slingo Coins are recorded at Slingo.com.
Scoring
Payouts – Max Bet
Three of a Kind – 25 Credits
Straight – 50 Credits
Flush – 75 Credits
Full House – 100 Credits
4 of a Kind – 125 Credits
Straight Flush – 250 Credits
5 of a Kind – 500 Credits
Wild Royal – 1,000 Credits
Royal Flush – 5,000 Credits
Crazy 7's Payouts
1 Crazy 7 – 25 Credits
2 Crazy 7's – 100 Credits
3 Crazy 7's – 1,000 Credits
4 Crazy 7's – 10,000 Credits