Love a good jigsaw puzzle? At Slingo, we love puzzles, too. That's why we're delighted to bring you Jigsaw Delight – just as much fun as a traditional table jigsaw puzzle, made twice as easy thanks to a few Slingo innovations we just know you'll absolutely love to pieces.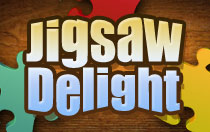 You'll delight in solving Jigsaw puzzles online. Have you ever had the frustration of getting to the end of a puzzle only to find you're missing the last piece? Play online and you'll never have a chain of puzzle pieces crumble apart when you move it from one spot to another. Ooooh, we really hate when that happens, too.
With Jigsaw Delight, you can choose a difficulty level for your puzzle to suit your mood, choose from 6 pieces for a quick fix to 224 pieces for a super challenge. Plus, our Jigsaw Delight puzzle game lets you choose which picture you'd like to work on from over 80 choices, no matter which difficulty level you choose!
The best part of all is when you play online, you don't have to clean up the puzzle when you're done. Just rake in your shinny Slingo Coins and carry on with your day!
If you've never tried a puzzle like this online before, you'll be thrilled at how easy and relaxing it can be. So settle in with something nice to drink and maybe a little snack and get ready for a good old-fashioned time, 21st Century style. We know once you try our Jigsaw Delight, you'll never want to go back to the other kind ever again. Give our online Jigsaw puzzle a try right now!