100 Percent Free Joker Poker – So Much Fun Your Head Will Spin!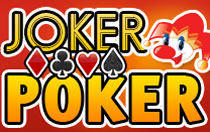 Everybody loves Slingo's world-famous slots games, but if you're looking for a little more poker in your spin, then Joker Poker is definitely the game for you. This Slingtastic free Joker Poker game is a fast-paced thriller guaranteed to give you the fun you're looking for – and then some! Our Joker Poker stars the whole lovable cast of Slingo characters – and even better, it's totally free (because we love free stuff, so we're sure you do, too!)
It's easy to get started with Joker Poker, too. With each spin, you get five cards to fill out your board. Rack up three and four of a kind, royal flushes, free spins and bonuses as you play. Then use your smarts to place your jokers at the end of each board to maximize your score. Watch out – that sneaky devil can show up and steal a spin. (But if you're very lucky, that golden-haired cherub will flutter by to save your spin and double your payouts, too!)
And that's not even talking about the jackpot! If you can cover the entire board – that's aces through tens in all four suits – then you could win the Joker Poker Progressive Jackpot, which starts out at a whopping 100,000 sparkly Slingo coins and only goes up, and up, and up from there!
Our Joker Poker is the most fun you can have for free, and that's no jokin' – so why don't you give it a spin right now?
Gameplay
The object of this game is to score as many points as possible by trying to light up the entire matrix of cards.
This four-spin game is played with a 23 Card deck containing:
Normal Cards
(4) Aces
(4) Kings
(4) Queens
(4) Jacks
(4) Tens
Special cards
(1) Slingo Joker
(1) Devil
(1) Cherub
One of the "Normal" playing cards randomly has a Free Spin attached to it, so that when that card appears in the reels, you earn a Free Spin. All spins are taken automatically. As the cards appear in the reels, the player must click on the corresponding cards on the Matrix to light up the card. Every card is only used once per game and is removed from the deck after it appears.
Game Icons
Free Spin – A Free Spin gives the player one extra spin, after they take their first four spins
Devil – The Devil makes the player lose that spin and half of the points for that Round
Cherub – The Cherub doubles all payouts on that spin
Joker – If the joker appears, it is kept aside until the player takes all of their spins (including Free Spins). The joker can be used to light any unmatched card on the matrix
If the Devil and the Cherub appear on the same spin, the Cherub negates the Devil and allows the player to use the other two icons on the reels
Payouts
3 of a Kind – 200 points
4 of A Kind – 300 points
Royal Flush – 500 points
Round Robin – 1,250 points
Cover All – (Progressive Jackpot) – starts with 100,000 points and increases 20,000 points after each round (if not won)
The Progressive Jackpot is won if the player lights the entire Matrix (Cover All). If the Progressive Jackpot is won before all 10 rounds are played, then it is set back to 100,000 points on next round.
End of the game
The round is over after all spins (and free spins) have been taken. Scores are recorded to Slingo.com after 10 rounds.