Mahjong Tiles, Fun and Beautiful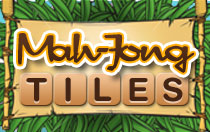 This Mahjong Tiles game is Slingo's elegant interpretation of the traditional mahjong you already love. When we were making our version, we paid special attention to the designs of the mahjong tiles themselves, each one featuring a delicate Chinese character. These tiles are so beautiful that you'll just hate to see them cleared away!
To play, find pairs of matching mahjong tiles. There are four tiles for almost every picture — and click on each pair to clear them from the board. Why almost every picture? That's because some tiles have seasons or flowers on them, and those don't need an exact match. These mahjong tiles should be paired with another season or flower.
Mahjong Tiles is far more than a simple matching game, though. To clear every tile away from the board, you'll need to apply your razor-sharp sense of strategy, we know you have one! You can only clear away a given tile if it's right or left isn't touching another tile on the same layer and there's no other tile stacked on top of it. Watch out, though, sometimes you should avoid clearing away a pair just in case one of that same set of four is buried in a lower layer. If you aren't careful, you could lock a mahjong tile underneath its match and make it so you can't clear away either one.
Our mahjong is smart and beautiful hey, just like you! We're sure you'll fall in love with the challenge. Go on and start a game of Mahjong Tiles now and see for yourself!
Gameplay
The objective of the game is to score as many points as possible by matching tiles to try to clear the Mahjong game board.
Starting the game
When you click on the "Start Game" button, the game will generate a pattern of tiles on the Mahjong board. You can click on the "New" button at any time during the game to start a new game, however, be careful because you will lose your current score.
Playing the game
To play the game, you need to click on 2 matching tiles to remove them from the board. Tiles are able to be removed from the board when they are not under any other tiles and are not touching any other tile on either the left or the right side. So if you see 2 matching tiles, then you can remove them so long as both tiles are not under another tile and have at least one side not touching another tile. If you get stuck, you can click on the "Hint" button to show you your next available match. The game is over when the board has been cleared or when there are no more available matches. When the game is over your scores and Slingo Coins are recorded at Slingo.com.
Scoring
Making a match – 100 points
Using a "Hint" – minus 100 points
Each Second – minus 1 point
** please note that not all boards are winnable **