Spin Up Mega Fun With Mega Slots!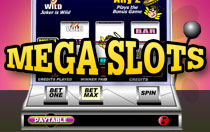 Mega Slots is like wining on a lucky machine every time you play slots! Feel all the excitement of a big slots win and collect a mega stack of Slingo Coins to add to your collection (or start a brand new one!) It'll give you a mega-lift every time you play.
Mega Slots is our classically styled free slots game featuring our beloved collection of Slingo characters. The Joker is wild and he'll make sure you get the most points you can any time he shows up, so cross your fingers and keep an eye out for him. Double Cherubs or gold coins or just one Slingo logo will give you a chance to play one of our two Mega Bonus Games. You can play Slingo Wheel and spin to win more, or you can try your hand at Number Touch.
This easy slots game gives you 50 spins – that's 50 chances to hit the Mega Jackpot! Our Mega Slots Progressive Jackpot is always growing, and you never know how big it'll get or which pull will be the one that wins it for you. You can bet from 1 to 3 credits per spin. And you can't run out of credits, so there's no need to worry about taking it easy. Bet as brave as you like!
Mega Slots is fun from start to finish, so there's no losing no matter how the reels spin – and with 50 chances to win, we're sure you'll take home a nice pile of Slingo coins, too!
Gameplay
Mega Slots is an exciting 3 reel slot game with 2 high paying mega bonus games.
To get the game started, click on "Bet 1" (up to a total of 3 credits) and then pull the slot arm, or just click on "Bet Max" for a 3-credit bet. These credits will be subtracted from your total "Credits" shown at the bottom of the screen. (Don't worry, you can't run out of credits in this game) The reels will spin and the payout will be based on the 3 symbols that appear on the "Payout" line. The Joker that can appear is "Wild" and will be used to award the highest payout possible. Jokers will not be used to start Bonus Rounds. If a Slingo symbol appears on any reel on the Payout line, the Slingo Bonus Wheel will spin and you will be awarded with the amount of credits shown that the Bonus Wheel stops on. If 2 Gold Coins or 2 Cherubs appear on the Payout line in the same spin, you will be able to go onto the Number Touch Bonus Round. In this bonus round there are 15 numbered tiles that hide values from 100 to 5,000 credits. You can "Touch" up to 4 numbers and keep whatever value is shown underneath. Since you can only keep the value under 1 of the numbers, you should quit when you think you have won enough credits by clicking on the "Collect Winnings" button. You have to keep the amount of winnings found under your 4th choice. If 2 Cherubs or 2 Gold Coins appear with a "Slingo" symbol, you will only play the Bonus Wheel. Every 50 spins, your current winnings and Slingo Coins are recorded at Slingo.com.
Scoring
Payouts – Max Bet
3 Bar Symbols – 15 Credits
3 Double Bar Symbols – 30 Credits
3 Triple Bar Symbols – 60 Credits
2 Cherubs – Bonus Round
2 Gold Coins – Bonus Round
3 Wild Jokers – 600 Credits
3 Slingo Symbols – 5,000 Credits