Pop in to Play Merry Poppings!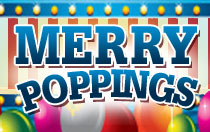 Slingo's cheery strategy game Merry Poppings puts you right at the scene of one of your very favorite carnival games. A board of balloons floats before you, and the more you can pop, the higher your score will float, so get ready for lots of exciting balloon swapping and popping action! You'll have so much fun you'll practically hear the carousel and smell the candy apples as you play.
Playing Merry Poppings couldn't be easier to learn. Click on any two balloons on the board (just as long as they're touching on the sides, not diagonally) to swap their places. If three or more are in a row going up and down or side to side, then those balloons will pop and others will float in to fill up the empty space. Try to pop multiple balloons at once or even set off chain reactions to send your score drifting up to the clouds!
There are two basic ways to play Merry Poppings. You can play on the Midway for 10 levels of power ups and popping – meet a goal to get to the next level and send your score skyward. Or you can go to the Sideshow for an endurance challenge all on a single level. Try it and see just how many balloons you can pop.
Merry Poppings is sure to give you hours of fun, so why don't you get started with a game right now? Anyway you play it, you'll have a popping great time!