Mad Fun with Mixed Matrix Slingo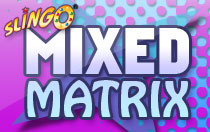 Everybody loves classic Slingo, but no matter how much fun it is, we all still need to mix things up sometimes. That's why we've brought you Mixed Matrix Slingo, which has all the fun of the classic Slingo you adore, plus a new way to play that adds a whole new topsy-turvy twist to shake things up.
Play just like classic Slingo – spin to get your numbers, then match them with the numbers on your board to try get five in a row up and down, sideways or diagonally. In classic Slingo the matches can only be in the same column – but in Mixed Matrix Slingo they can be anywhere at all, so you're going to need to look sharp to make all your matches before it's time to spin again. Fill up the whole board for extra points, which means you'll be filling your pockets with even more Slingo coins!
We've made extra sure to keep the heart of Slingo just the way you like it, of course, so we've bought along our whole stable of Slingo characters to star in Mixed Matrix Slingo, too. Collect coins for extra points, jokers you can place anywhere on the board, and watch out that the red devil doesn't come and steal away your spin!
So if you're ready for a great change of pace, come on in and play Mixed Matrix Slingo right now – you'll be all mixed up and having a ball in no time at all!
Gameplay
The objective of Mixed Matrix Slingo is to accumulate the highest number of points by trying to cover all the numbers on your game card in 20 spins or less.
At the start Mixed Matrix Slingo, all players are given the same card with 25 numbers (five columns of five numbers). Under the numbers are five wheels that generate numbers that will match the numbers on the card.
Taking spins
When the red button flashes "TAKE SPIN", you have 5 seconds to click on the button. If you don't take your spin within the 5 seconds, you lose that turn. Each spin you take produces random numbers and game icons in the five wheels.
Making matches
After you click on "TAKE SPIN", use the mouse to match the numbers and Jokers that appear in the wheels, with the numbers in the columns above. Numbers can be matched ANYWHERE on the card.
The game icons
A JOKER – can be used to match any number in the column they appear
If 3 or more jokers appear during 1 spin, you are awarded bonus points (described below)
A SUPER JOKER – can be used to match any number on the card
If the green "Super Joker" appears on the middle wheel, it can be used to match any uncovered number. You must place the Super Joker before you can match other numbers or Jokers. The other wheels will appear gray until you place the Super Joker.
A DEVIL – will take away one-half of your points.
A CHERUB – may appear and chase the Devil before he can take your points.
A GOLD COIN – adds 2000 points to your score.
A FREE SPIN – is saved automatically so that you may use them to buy spins 17-20 instead of using your points. You can accumulate a maximum of four Free Spins in a game.
Spin 17 to 20
You must use points to buy spins 17 – 20 or you may use any Free Spins that you have accumulated. If you do not have a Free Spin or enough points to buy a spin, you will not be able to continue in the game.
Filling cards
If one or more players achieve a Full Card (covering all 25 numbers on a card) in 20 spins or less, they receive Bonus Points (described below). All other players continue to play until they fill their cards or have taken all 20 spins. A Full Card does not guarantee the highest score.
High-stakes Jackpots
All rooms are High Stakes Rooms. The jackpot you can win is based on how many people are playing the game. The player with the highest score at the end of the game will win the High Stakes Jackpot.
Scoring
Making a Match – 400 Points
3 Jokers in one spin – 1,000 Points
4 Jokers in one spin – 2,500 Points
5 Jokers in one spin – 10,000 Points
Gold Coin – 2,000 Points
Making a Slingo – 2,000 Points
Full card bonus
Spin 12 – 11,000 Points
Spin 13 – 10,000 Points
Spin 14 – 9,000 Points
Spin 15 – 8,500 Points
Spin 16 – 8,000 Points
Spin 17 – 7,500 Points
Spin 18 – 7,000 Points
Spin 19 – 6,500 Points
Spin 20 – 6,000 Points