Join the Party with Multiplayer Brasil Slingo!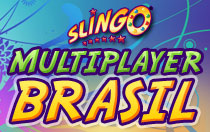 We know just what brought you here – you've played Brasil Slingo and fallen totally in love, but now you're looking for a fresh new twist on the same excitement. Multiplayer Brasil Slingo is just the flavor you're looking for!
With Multiplayer Brasil, you get the same Slingtastic thrills as Brasil Slingo, our single-player slots game. But with more people adding to the jackpot, you can win even more Slingo Coins to add to that fast-growing collection of yours – the more are playing, the bigger the jackpot. And that's not even including the progressive jackpot, starting at 250,000 Slingo Coins, which you can win if you get nine Jokers in one Slingtastic spin of the reels!
The action will keep you hopping with Multiplayer Brasil Slingo. Race to match the numbers you've spun before the time is up, and then spin again. You get three spins per round, plus more for each Free Spin you get. Score extra of those shiny Slingo Coins you love for filling out each line of nine, making a Big M or Big W across the whole board, and of course bonus Gold Coins for filling the whole board in a round.
Since this is Multiplayer Brasil, that means you get all the fun of playing with your friends or making a few new ones! Join in the chat and you'll wonder how the clock goes by so fast, didn't your mother always tell you how time flies when you're having fun?
So put on your party shoes and samba on in to Multiplayer Brasil Slingo, where the party never stops!
Playing Myltiplayer Brasil
The object of the game is to match all of the numbers on the playing board with numbers appearing on the reels below within the amount of spins given.
Taking spins
You are initially given 3 spins in order to match as many numbers as possible on the playing board. When the Spin button begins to flash, you will have 7 seconds to take your spin. Each spin that is taken will reveal numbers, Jokers, Super Jokers, Gold Coins, or Free Spins on the reels below the playing board.
Making matches
Covering rows of numbers or covering a "Big M" or "Big W" on the playing board will score bonus points. Getting 4 or more Jokers in one spin will also earn you bonus points. Check the Payouts table for a list of all the bonuses. Each Free Spin you earn will allow you to take an additional spin, after you take your 3 initial spins. Occasionally, you will get a Super Joker. After you have made all of your matches, you will then be allowed to click on ANY row, and all of the numbers in the row will then be covered. Hidden under two numbers on the playing board are Gold Coins, which will earn you a quick 100 points each when that number is matched. After every 5 rounds of Brasil Slingo that are played, your scores and Slingo Coins will be recorded to Slingo.com. You may also hit the "Quit" button to end the game early and receive the Slingo coins you have earned so far.
Scoring and Jackpots
Every Game, the player with the Highest Score wins a Jackpot PLUS 1,000 points for every player in the room who joined that game. A player will be awarded the Progressive Jackpot if they get 9 Jokers in ONE spin. For every game played that no one wins the Progressive Jackpot – the Progressive Jackpot will increase by 1 point.
Payouts
Each Square – 10
Coin – 100
One Row – 100
Two Rows – 250
All Rows – 1,000
Big M & W – 1,000
4 Jokers – 100
5 Jokers – 200
6 Jokers – 1,000
7 Jokers – 5,000
8 Jokers – 15,000
9 Jokers – 50,000
The Progressive Jackpot is won by achieving 9 Jokers
Game credits
Executive Producer: Jason Vourtsis
Game Design: Lori Cerchio
Lead Artist: Burundi Fletcher
Special Thanks: Chad Gilloth
Original Design: Sal Falciglia / John Driscoll
Lead Programmer: Paul Calhoun
Q/A Lead – Lori Cerchio
Original Slingo Concept: Sal Falciglia