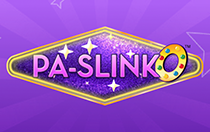 Pa-Slinko takes all the fun of Slingo slots and combines it with the excitement of Pachinko! Spin and drop numbered balls at matching numbered pins to earn major points! Match all five balls in a spin to earn a full Pa-Slinko! Come back every day to see fun new powerups and beat the Pa-Slinko Daily Challenge!
How to play
Spin the Pa-Slinko balls to load 5 numbered balls to drop through the maze of pins. Earn points for
hitting pins along the way and the points pockets at the bottom. Earn an extra 1,000 points if the
number ball contacts the matching numbered peg in a Pa-Slinko! Match all five numbered pins with balls
with Pa-Slinkos and earn a huge point bonus to beat the Daily Challenge!