Rikki Tikki Makes YOU the Action Star!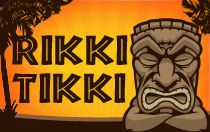 Time for some jungle fun! It's Rikki Tikki, the fast-paced game of color matching that will challenge you for hours and hours. The sounds of the drums in the background may sound like the natives are throwing a great dance party… but it's headhunters, and they're after you! Can you escape with a fortune in Slingo Coins before the masks fill up the screen and the headhunters decide to keep you around for dinner?
You'll get a steady stream of pairs of colored masks falling from the top of the screen. In Rikki Tikki, you need to shift, turn, and place the masks to line up three or more of the same color and clear the masks away as quickly as you can. You can match horizontally, vertically and diagonally – and best of all, there are chameleon masks that flash black and white. Keep those handy, because they can help you to clear away any other color!
Rikki Tikki is always kicking it up another notch, too, so you can't settle into a rut. The more points you score, the more challenging the game will become. So the faster you clear masks away, the faster new masks will come at you!
Rikki Tikki is a game of luck, strategy, and fast reflexes. You'll have to be at the top of your game to come away with the jungle treasure. Do you have what it takes to escape? The only way to find out is to try it now!
Game description
Tikki masks are raining down from the heavens! To remove them, you need to match up 3 or more of the same color. You can make horizontal, vertical and diagonal matches. If the masks reach the top of the board – the game is over!
Gameplay
You can move pieces left and right by using the arrow keys. To flip the masks ( top / bottom – only) use the space bar. Hitting the key letter "P" pauses the game.
Masks
There are 9 colored masks. Chameleon masks ( flashing black / white) not only match themselves, but allow you to make horizontal and vertical matches with the other colors.
Speed levels
The speed level indicates how fast the pieces will drop. The speed level is increased every 1000 points and is reset back to level 1 after level 10.
Scoring
Scoring is based on what speed lever you are on and how you make the matches
Vertical Matches – 10x (Speed) Points per mask in this match
Horizontal Matches – 20x (Speed) Points per mask in this match
Diagonal Matches – 30x (Speed) Points per mask in this match