Play Slingo the way you want, and gain a Slingo Advantage.
What to Play Slingo with No Devils… Extra Slingo Jokers… Slingo Vision… Multipliers… And More?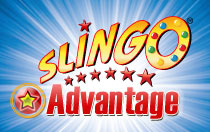 The choice is yours when you play Slingo Advantage.
The objective of Slingo Advantage is to accumulate the highest number of points by covering all the numbers on your game card in 20 spins or less, using power-ups that you select.
Playing Slingo Advantage
Slingo Advantage starts with a card full of numbers chosen at random. Hit the spin button to spin the reels at the bottom and then match the corresponding numbers on the board by clicking on them.
The game icons
A JOKER – Can be used to match any number in the column they appear. If three or more jokers appear during a spin, you are awarded bonus points.
A SUPER JOKER – If the green "Super Joker" appears, it can be used to match any uncovered number. You must place the Super Joker before you can match other numbers or Jokers. The other wheels will appear gray until you place the Super Joker.
A DEVIL – Steals half your points.
A CHERUB – May appear and chase the Devil before he can steal your points. It also gives a chance of doubling your current score.
A GOLD COIN – adds 1,000 points to your score.
A FREE SPIN – is saved automatically so that you may use them to buy spins 17-20 instead of using your points. You can accumulate a maximum of four Free Spins in a game.
Making Slingos
A SLINGO occurs when five numbers are covered horizontally, vertically, or diagonally. There are 12 possible SLINGO's in every game. With Bounce Slingos enabled, there are 24 possible SLINGO's in every game. Each SLINGO earns you 1,000 points, plus a bonus for every additional SLINGO you make.
Spin 17 to 20
You may use points to buy spins 17 – 20 or use Free Spins that you have earned during gameplay. If you do not have a Free Spin or enough points to buy a spin, you will not be able to continue in the game.
Filling cards
If you achieve a Full Card (covering all 25 numbers on a card) in 20 spins or less, you receive Bonus Points.
Scoring
Making a Match – 200 Points
3 Jokers in one spin – 3,000 Points
4 Jokers in one spin – 4,000 Points
5 Jokers in one spin – 5,000 Points
Gold Coin – 1,000 Points
Full card bonus
Spin 12 – 11,000 Points
Spin 13 – 10,000 Points
Spin 14 – 9,000 Points
Spin 15 – 8,500 Points
Spin 16 – 8,000 Points
Spin 17 – 7,500 Points
Spin 18 – 7,000 Points
Spin 19 – 6,500 Points
Spin 20 – 6,000 Points
Selecting Power-Ups
Customize Slingo Advantage any way you want by enabling or disabling the power-ups of your choice!
Power-Ups
Devil Protection – When the Slingo Devil shows up in your spin he can steal half your points. Devil Protection lets you play without any Devils!
Slingo Vision – Get Slingo Vision to get ahead of your Slingo friends. With Slingo Vision, matching numbers are revealed with each spin letting you accelerate through games and boost your scores.
Bounce Slingos – Get the Bounce Slingos powerup to supercharge your Slingo game scores. Slingos will "bounce" off the edges of the matrix, giving you 12 more opportunities to score.
Reel Nudge – Tired of Slingo spins that result in no matches whatsoever? The Reel Nudge powerup will take effect the first time in each game that this happens and bounce the reels to new random positions. It's like a free extra spin in return for a bad spin. (Max. one per game).
Extra Jokers – The Extra Jokers powerup is exactly what it sounds like. More chances to spin up a Joker in each Singo Reel when you use this powerup.
All Spins Free – Don't use your points to get those last four spins. Buy the All Spins Free powerup and get the last four spins without giving up your points.
Multipliers – Get a chance at being super-lucky on any Slingo spin with the Multipliers powerup. Spin up a x2, x3 or even a x5 symbol that will multiply all of your points during that spin. The Multipliers powerup is your ticket to high-scores!!!
Extra Super Jokers – The Extra Super Jokers powerup changes some of your regular jokers into Super Jokers for a super-good chance at a full card in every game.