You've never played Slingo like this before. Make matches and Blast them off the Slingo game board. Unlock special Powerup Slingo Blocks and send your scores through the roof before time runs out. Plus, make matches quickly and you'll unlock Blast Mode, for 10 seconds of Joker matching fun.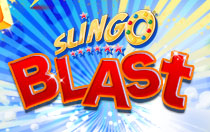 The more games you play, the more special Powerup Slingo Blocks will be unlocked!
The goal of Slingo Blast is to make as many matches as possible beforetime runs out. Play more games of Slingo Blast to unlock cool power-upsthat will help you get the highest score possible on the Slingo Blast HighScore Leaderboard!
Unlock extra power-up slots and try out different power-up combinationsto find your favorite play style.
Read on for more information about Slingo Blast, how scoring breaks down,and how each power-up works!
Playing Slingo Blast
Start playing Slingo Blast by spinning the reels using the spin button,or by clicking on individual reels. You will see numbers on the bottomof the screen. Click on the matching numbers in the matrix of numbers inthe middle of the screen. The faster you match, the more points you get!
Making Slingos
Match 5 squares in a row to make a Slingo. When you make a Slingo, you'llearn points and those squares will disappear, then new ones drop in.
Scoring
Make a Match – 100 Points
Blast a Block – 150 Points
Make a Horizontal Slingo – 1000 Points
Make a Vertical Slingo – 1200 Points
Make a Diagonal Slingo – 1500 Points
Make a Pivot Slingo – 2000 Points
Get 10 Slingos – 3000 Points
Get 20 Slingos – 5000 Points
Get 30 Slingos – 10000 Points
The game icons
JOKER – Matches any square in that column.
SUPER JOKER – Matches any square in any column.
COOL JOKER – Matches all squares in that column.
DEVIL – Steals your matches! Find a Cherub by spinning the wheels to chase him off!
Power-Ups
As you play Slingo Blast, you'll unlock cool power-ups that change theway you play the game. Select these power-ups before each game and enjoy their awesome abilities and powerful powers!
Time Bonus – Earn extra time to rack up points by matching hourglassblocks that appear in-game. Each Time Bonus awards 2, 3, 5, 10 or even arare 15-second time bonus!
Score Multiplier – Match this power-up block to multiply all future pointsby 2, 5 or even 10 times! High scores, here we come!
Boom Block – Match the Boom Block to explosively match all adjacent squares.Match adjacent Boom Blocks for sweet combo action!
2 Slots – Fill these two slots with any power-up you want! Mix and match forultimate score maximization!
Blast Mode – Match squares quickly to trigger Blast Mode for 10 seconds!During Blast Mode, any reel will result in a Joker. Get those quick clicksready!
Cool Jokers – Adds Cool Jokers, who will appear in your reels. Find one andmatch an entire column!
3 Slots – Fill these three slots with any power-up you want! TriplePower-ups, for the win!
Bonus Jokers – Increase the number of Jokers that appear in yourreels. It's a Joker Jubilee!
Devil Protection – Keep that Darn Devil from stealing your matchesAND get a sweet point bonus from everyone's favorite Cherub!
Faster Reel Spin – Drastically reduces the time for the Spin Allbutton to recharge, allowing you to spin those reels like a MasterBlaster!
4 Slots – Fill these four slots with any power-up you want!Master the art of power-up combinations, you will.
Cherub Cash – The Cherub's payin' out! Get big bonus pointsfor every unmatched square in the column above the Cherub.
Shock Block – Match the Shock Block, then match any other squareto set it off!
Cherry Block – Instant explosion! Any time a Cherry block ismatched, it blasts off and explodes!
V-Block – Match the V-Block to create an instant Slingo inthat column. Let's get vertical!
Contact Block – Caution: Explodes on Contact! If an adjacentsquare is matched, the Contact Block matches and explodes too.
Slingo Vision – Shows you exactly which squares match the reels. Maxout your Blast rate with this classic Slingo power-up.
5 Slots – Fill these five slots with any power-up you want! Fivealive! That's a lot of power-ups.
Auto-Spin – Automatically spins the reels when they are ready.Combine with Auto-Match for explosive results!
6 Slots – Fill these six slots with any power-up you want! Thissix-shooter is ready to BLAST!
Auto-Match – Automatically matches any squares for you! Thepinnacle of Slingo perfection!