Slingo Classic (multiplayer) Slings You into the Future.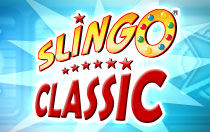 If you're looking for a fabulous time with a little new scenery, you've definitely come to the right place. Slingo Classic is all the fun you love from our flagship Slingo – but we've updated it with a shiny new look to celebrate the multiplayer game. And we know you'll be excited to hear that this fresh-faced update still has every ounce of the excitement you expect from Slingo!
In Slingo Classic, you get to spin and match numbers on the board to collect Slingos. (That's five matched numbers in a row, but they can be in lines, columns, or even diagonal.) Our Slingo joker will always make you smile when he makes an appearance, and you'll scowl back at the devil when he shows his face (but we know you secretly love him, too!) Plus, this fast-paced modern classic lets you make friends from Maine to California in our localized game rooms!
When you play Slingo Classic you'll get more out of it than a Slingtastic time and gorgeous graphics, too. Add to your collection of sparkly Slingo coins with every Slingo you make – get extra bonuses from coins and that plucky cherub, and fill up your whole board to win even more. If you're super lucky – and we're pretty sure this is your lucky day – you could even win the Slingo Classic Progressive Jackpot, and then you'll have so many Slingo coins you could swim in them!
So go on and step into the bright, Slingtastic future with Slingo Classic right now!
Description
The objective of Slingo Classic is to accumulate the highest number of points by trying to cover all the numbers on your game card in 20 spins or less.
Playing Slingo Classic
At the start Slingo Classic, all players are given the same card with 25 numbers (five columns of five numbers). Under the numbers are five wheels corresponding to each of the five columns of numbers.
Taking Spins
When the red button flashes "TAKE SPIN", you have 5 seconds to click on the button. If you don't take your spin within the 5 seconds, you lose that turn. Each spin you take produces random numbers and game icons in the five wheels.
Making matches
After you click on "TAKE SPIN", use the mouse to match the numbers and Jokers that appear in the wheels, with the numbers in the columns above.
The game icons
A JOKER – can be used to match any number in the column they appear
If 3 or more jokers appear during 1 spin, you are awarded bonus points (described below)
A SUPER JOKER – can be used to match any number on the card
If the green "Super Joker" appears on the middle wheel, it can be used to match any uncovered number. You must place the Super Joker before you can matchother numbers or Jokers. The other wheels will appear gray until you place the Super Joker.
A DEVIL – will take away one-half of your points.
A CHERUB – may appear and chase the Devil before he can take your points.
A GOLD COIN – adds 1000 points to your score.
A FREE SPIN – is saved automatically so that you may use them to buy spins 17-20 instead of using your points. You can accumulate a maximum of four Free Spins in a game.
Making Slingos
A SLINGO occurs when five numbers are covered horizontally, vertically, or diagonally. There are 12 possible SLINGO's in every game and each SLINGO earns 1,000 points.
Spins 17 to 20
You must use points to buy spins 17 – 20 or you may use any Free Spins that you have accumulated. If you do not have a Free Spin or enough points to buy a spin, you willnot be able to continue in the game.
Filling the card
If one or more players achieve a Full Card (covering all 25 numbers on a card) in 20 spins or less, they receive Bonus Points (described below). All other players continue to play until they fill their cards or have taken all 20 spins. A Full Card does not guarantee the highest score.
Progressive jackpot
Some rooms have progressive jackpots. A jackpot can be won by achieving a score of 38,000 in a single game. Each game that someone does NOT get the required score,the Jackpot increases by 500.
Scoring
Making a Match – 200 Points
3 Jokers in one spin – 1,000 Points
4 Jokers in one spin – 2,500 Points
5 Jokers in one spin – 10,000 Points
Gold Coin – 1,000 Points
Making a Slingo – 1,000 Points
Full card bonus
Spin 12 – 11,000 Points
Spin 13 – 10,000 Points
Spin 14 – 9,000 Points
Spin 15 – 8,500 Points
Spin 16 – 8,000 Points
Spin 17 – 7,500 Points
Spin 18 – 7,000 Points
Spin 19 – 6,500 Points
Spin 20 – 6,000 Points