Play a new Slingo Daily Challenge game every day with a different set of Powerups that help you beat the daily challenge goal. See today's Powerups and the challenge goal to beat below.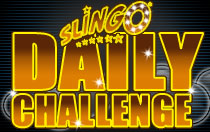 The objective of the Slingo Daily Challenge is to accumulate the highest number of points by trying to cover all the numbers on your game card in 20 spins or less, and beating the ChallengeScore set for that day. The Daily Challenge goes from Midnight EST to 11:59PM EST. Games scores will be credited to the day that they were started in.
Character challenges
After beating the Slingo Daily Challenge you will unlock the new Character Challenges. Each Challenge is slightly different and gives more ways to play every day!
Slingo Daily Challenge – Play the original Slingo Daily Challenge with new powerups each day!
Devil's Challenge – The challenge is harder, but the awards are doubled! [Unlocked when Slingo Daily Challenge is beaten]
Cherub's Challenge – Play with Vision and Devil Protection for double coins! [Unlocked when Slingo Daily Challenge is beaten]
Joker's Challenge – Play with Extra Jokers and double the rank points! [Unlocked when Slingo Daily Challenge is beaten]
Super Joker's Challenge – Play with 9 different powerups and a chance at 1 million coins! [Unlocked when all other Challenges are beaten]
Playing the Slingo Daily challenge
At the start of the Slingo Daily Challenge, the player is given a game card with numbers chosen at random. Hit the spin button to spin the reels at the bottom and then match the corresponding numbers on the board.
Making matches
After you click on "TAKE SPIN", use the mouse to match the numbers and Jokers that appear in the wheels, with the numbers in the columns above.
The game icons
A JOKER – can be used to match any number in the column they appear.
If 3 or more jokers appear during 1 spin, you are awarded bonus points.
A SUPER JOKER – can be used to match any number on the card
If the green "Super Joker" appears, it can be used to match any uncovered number. You must place the Super Joker before you can match other numbers or Jokers. The other wheels will appear gray until you place the Super Joker.
A DEVIL – will take away one-half of your points.
A CHERUB – may appear and chase the Devil before he can take your points. It also gives a chance of doubling your current score.
A GOLD COIN – adds 1000 points to your score.
A FREE SPIN – is saved automatically so that you may use them to buy spins 17-20 instead of using your points. You can accumulate a maximum of four Free Spins in a game.
Making Slingos
A SLINGO occurs when five numbers are covered horizontally, vertically, or diagonally. There are12 possible SLINGO's in every game [with Bounce Slingos enabled, there are 24] and each SLINGOearns 1,000 points, and then increments up for successive Slingos.
Spin 17 to 20
You must use points to buy spins 17 – 20 or you may use any Free Spins that you have accumulated. If you do not have a Free Spin or enough points to buy a spin, you will not be able to continue in the game.
Filling the card
If you achieve a Full Card (covering all 25 numbers on a card) in 20 spins or less, you receive Bonus Points. A Full Card does not guarantee the highest score, or a Challenge win.
Scoring
Making a Match – 200 Points
3 Jokers in one spin – 3,000 Points
4 Jokers in one spin – 4,000 Points
5 Jokers in one spin – 5,000 Points
Gold Coin – 1,000 Points
You will receive:
10,000 Slingo Coins and 10 Slingo Rank Points for playing the Daily Challenge.
150,000 Slingo Coins and 100 Slingo Rank Points for winning the Daily Challenge. This is awarded once per day per person.