Oh, no! The Slingo LightUm Factory has lost power and it's up to you to restore it in this unique twist on an old slot favorite. We know you'd be happy to help just out of the goodness of your heart. But lucky for you, the good people of Slingolopolis know how to reward a hero – with Slingo coins, of course!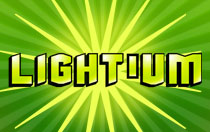 In each round of Slingo LightUm, you get 5 spins to light up S-L-I-N-G-O. Each letter lights up if you spin up a match or a joker, and you can even get extra spins to improve your chances of lighting them all up. Each time you light up a letter, the relieved residents will give you 50 credits, plus a bigger reward if you get everything lit up before you run out of spins. The faster you do it, the bigger the reward, up to 10,000 credits if you light up the Slingo LightUm Factory with one lucky spin!
The owners of the Slingo LightUm Factory appreciate effort, too, so sometimes they'll send you a gold coin worth ten credits in your spins just for trying to help. Nobody ever said they were ungrateful!
And the best part for you is… they just can't keep the power running over at the Slingo LightUm Factory, so you can keep on spinning and helping those folks out as long as you like. It's a great deal for you – win Slingo coins and do a good deed all at once! Hurry over there and play right now, they're waiting for your help!
The Slingo Light'Um Factory is out of power, and it's up to you to get the juice flowing again. Light'Um is a slot machine-style game in which you have to get all of the lights lit in the Slingo Light Board within 5 spins.
Game start
When the game begins, you must click on the " Click Here to Start a New Game" message to get the game started. To take each spin, simply click on the blinking" Take Spin" button. When you take your spin, a combination of Letters, Jokers, Gold Coins and Free Spins will appear below the Slingo Light Board. If a letter appears and it matches the letter above on the Slingo Light Board, it will restore power and light up. If a Joker appears, whatever letter is above on the Slingo LightBoard will be restored. For every letter that lights up, you will be awarded with 50 credits. When a Gold Coin appears, you will be awarded with 10 credits. If a FreeSpin appears, you will be awarded with an extra spin to improve your chances of fully restoring power. The game is over if you fail to restore power to the Slingo LightBoard within the given amount of spins, or when you fully light up the Slingo Light Board. Every 10 games, your current winnings and Slingo Coins are recorded at Slingo.com.
Scoring
Payouts
Gold Coin – 10 Credits
Light One Light – 50 Credits
3 Jokers – 50 Credits
4 Jokers – 100 Credits
5 Jokers – 200 Credits
6 Jokers – 500 Credits
Light'Um All
One Spin – 10,000 Credits
Two Spins – 7,500 Credits
Three Spins – 5,000 Credits
Four Spins – 1,000 Credits
Five or More Spins – 500 Credits