Did you ever find yourself playing a regular game of mahjong and thought, This is fun, but I want something different. Gee, I sure wish this mahjong game was more Slingolicious! Well, wish no more. Slingo Mahjong is here! This is your opportunity to play mahjong with the extra Slingo-style twist you were pining for all these years. (Don't worry, we don't read minds, we just have a really great crystal ball!)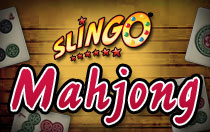 We know what you're wondering: How exactly is this version of mahjong any different from all the other mahjong games I've played before? Well, we guarantee you've never had a chance to play mahjong like this until we came along! We've taken the mahjong you probably already know – matching tiles until you clear a board, and mixed in a spin. Along with the regular mahjong layout, you get to spin for five extra tiles. As you play, you can use them to match any free tile in the mahjong board. If you clear all five tiles before you spin again, then you get a free spin. Every five matches without a spin add on bonus points, so the longer you play, the higher your score will climb. And if there's one thing we've learned here at Slingo, it's that everybody loves a high score.
By now you're probably itching to get started, aren't you? I mean, what with how you've been pining to play this very game for years, right? (Hey, maybe we read minds after all!) Well don't let us keep you waiting. Go on and play mahjong now!
Slingo and Mahjong meet for a new game that's filled with fun.
Welcome to Slingo Mahjong. We're guessing that you're reading this because you want to find out how to play this fun new Slingo game. If you've played Mahjong Solitaire before (games like Mahjong Tiles), you're already familiar with matching two like tiles from the layout that are each free on the left or right side. If you haven't, you can match any two tiles that do not have anything above them and nothing on either the left or the right of them. Tiles that you can select will change color when you put your mouse over them, so don't sweat it. The special tiles (seasons and flowers) can be matched with another special tile of the same.
Gameplay
This isn't a regular Mahjong game though, this is Slingo Mahjong, so there's going to be a little something extra. Some of the tiles are going to be drawn in, 5 at a time. You can use any of these tiles to match available tiles on the board.
Start matching, if you get 5 matches in a row, without taking a hint or spin, you'll get a Mahjong Slingo. You'll be able to see your progress in the match meter in the top left corner. If you keep making these Mahjong Slingos without taking a spin or a hint, you keep multiplying the values of this bonus, if you string it out for a long time, these bonuses will be huge!
To keep making Back-To-Back Slingos, you're able to get Free Spins by clearing out all of the tiles from the spin area. When you get a free spin, it's the next one that you take, and there'll be no charge for it, and your match meter won't be touched.
If you get stuck, don't be afraid to ask for a hint. You'll be able to find a pair that you can remove from the layout. If you don't ask for a lot of hints, you'll get a bonus if you complete the layout.
Hints and tips
Start the game by taking a spin.
Always contemplate the matches you're making, with some tiles coming in, you may want to leave easy matches.
Watch your matches and time your spins – don't waste matches that you can use for making Slingos.
Harder levels award more points, which means more Slingo Coins!