The King needs your help to win the Queen's heart! Create matches of 3 or more hearts or gems before time runs out to send to the Queen and woo her heart! Unlock bonus minigames by matching love letters, score big combinations, and go for the high score in this daily challenge.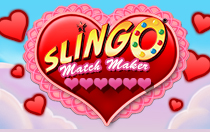 Playing Slingo Matchmaker
At the start of the game, a player is given a random game card of gems, letters, and hearts. Players must drag gems to swap them with gems in tiles above, below, or to the side to make combinations of 3 or more matching gems. Once a match has been made, those gems clear the board and player earns points. Earn enough points to meet or beat the Daily Challenge!
Hearts And Gems
Each time you make a match of 3 or more hearts, the Cherub will drop gems onto the edge of the game board. Find as many gems as you can before the Cherub flies by to find bonus coins.
Special Tiles
Hearts – creating matching combinations of hearts moves the King around the game board to collect power-ups and find gems.
Love Letters – creating matching combinations of love letters adds to the Bonus Game meter. Fill the meter to earn a special Bonus Game Round!
making Slingos
Every matching combination changes the background of the board yellow. Create a vertical or horizontal line of yellow tiles and earn a Slingo for more points. Bouncing Slingos allow for ricochets off the edge of the board, increasing the amount of Slingos that can be earned!
Filling the cards
If you achieve a Full Card (turning the entire game board yellow), you receive Bonus Points. A Full Card does not guarantee the highest score, or a Challenge win, but it will certainly help.
The Cherub
Every 30 seconds, the friendly Cherub will fly by, turning gems into bonus coins! Be sure to get as many gems as possible so the Cherub can turn them into gems for you!
Bonus Game
Fill the Bonus Game Meter by making matches with love letter tiles and the Bonus Game will be activated. In the game you have 20 seconds to collect 20 Gold Coins by matching them on the game board. Reach the goal and the King will win the Queen's heart!
Scoring
Full Card – 350,000 Points plus 25,000 points for every 10 seconds remaining on the clock
Slingo – 2,500 Points
Gold Coin – 2,000 Points
Making a Match of 5 gems – 700 Points
Making a Match of 4 gems – 250 Points
Making a Match of 3 gems – 150 Points
Multi-Slingo Tile Bonus – 500 Points (Marking a tile gold that causes multiple Slingos)
Marking a Tile Gold – 250 Points
Simultaneous match bonus – 200 Points (Making multiple matches with a single swap)
Cascading Combo Bonus – 100 Points