Sharpen Your Memory with Match'Ums 3.0!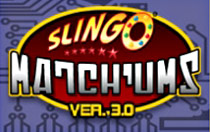 Exercise your brain and improve your memory with Match'Ums 3.0, a free memory game from Slingo. In this matching game, you have to pair tiles with numbers, symbols and your favorite Slingo characters in a memory-busting grid.
Keep your mind sharp and test your memory with nine different difficulty levels in this fun free game. Match'Ums 3.0 is matching memory fun for everyone. You don't have to have a photographic memory to have a great time — customize each game you play by selecting Easy, Medium, or Hard mode. You can choose to play Match'Ums 3.0 with all numbers, all symbols, or a mix of both.
The lovable cast of Slingo characters, including the Slingo Joker, Devil, and Cherub all make appearances in this game. They can either help or hurt your score. You can use the Slingo Joker to match any number or symbol on the grid, and if he comes up in your spin, you get a hefty amount of Slingo Coins.
And for the first time in Slingo history, the Devil and Cherub are hanging out together in Match'Ums 3.0! If you match two Devil and Cherub tiles, you add more Slingo Coins to your bank and double your score. But if you match it with any other tile (besides a Joker tile) you lose half your score… so choose carefully!
So go on and wake up your brain right now with Match'Ums 3.0. It'll sharpen up your mind and improve your memory every time you play!