Greetings friend, it's time to 'ead out to the Slingo Savannah and wrastle up some adventure! Spin the reels, grab yer camera, and let's get ready to explore the great wild in Slingo Safari Slots.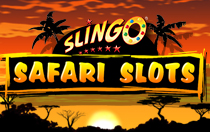 We're going to take our chances out in the wild to see if we can catch some of these critters in their natural habitats.
So make your wager, spin those reels and see what rare beasts we can get an eye on. I'd bet National Slingographic will pay a pretty penny for some of the shots we're going to get, Mate!
Scoring
On your Safari, if you see three of a kind, you're in the money. Maps, hats and other gear will get you some good coin, but if you really want to land the King's Ransom, you'll need to keep an eye out for the big fellas. You know, the Lions and Zebras and Giraffes.,Oh my.
Remember, your wager affects your winnings. The more you bet, the more you'll earn. Let's say you wager 100 Slingo coins. This is the payout you'd get back:
3 Maps – 1,000 Coins
3 Hats – 1,500 Coins
3 Binoculars – 2,500 Coins
3 Wilds – 5,000 Coins
3 Zebras – 6,000 Coins
3 Giraffes – 7,000 Coins
3 Cheetahs – 7,500 Coins
3 Rhinos – 8,000 Coins
3 Elephants – 9,000 Coins
3 Gorillas – 10,000 Coins
3 Lions – 15,000 Coins
3 Stampede Mode Symbols – Free Spins!
Remember, mate, throw down more loot to multiply your winnings. For example, if you bet 100 big ones on a spin and get 3 Lions, that's a sweet 15,000 Slingo Coins in your pocket! Crickey!
Safari snapshots
When you're out on Safari, keep an eye out for wild beasts of the Savannah. If you see three of them in a row, snap a picture of them for a bounty of bonus coins. The tally of how many wild animals you've captured can be found at the bottom of your screen.
Once you've finished a game, click the Play Again button to go the Dark Room and develop your shots. National Slingographic will assess your work and pay you a handsome some for yer troubles! That's one way to skin a Wallaby!
Stampede mode
On the Savanah, you always gotta keep your eye out for a Stampede! These beasts get a spook in them and CRICKEY! It's off to the races!
If you spin up three Stampede icons, you'll get 2 to 4 free spins. Once the Stampede is going, just sit back and watch the loot come in, mate!