Fly Solo with Slingo Solitaire!
Everybody loves a good game of solitaire, and that's why we've made this Slingtastic version with our own signature Slingo twist!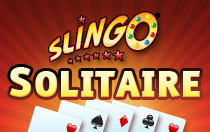 Slingo Solitaire is just like the classic solitaire you learned as a kid. The object is to move all of the cards to the four stacks at the top, from aces on up to kings. To get them there, flip through your free cards three at a time and move the stacks around to try to free up all your face-down cards. You can stack lines of cards decreasing in value (kings on top, aces on bottom) as long as you're alternating red and black cards. So far so good, right?
But what about that Slingo twist, you ask? What makes it Slingo Solitaire and not just ordinary solitaire? Two words – Progressive Jackpot!
In Slingo Solitaire, you start your first game with a progressive jackpot of 25,000 bee-yoo-ti-ful Slingo Coins just waiting for you to clear your Solitaire game and win them all. But not so fast! Each time you don't win your game of Slingo Solitaire, your final score multiplied by ten is added into the progressive jackpot and gives you the chance to win even more. It might be worth it to throw a few games and see that jackpot grow. And grow… but watch out! If you play ten games and don't win once, all of those Slingo Coins vanish and the jackpot goes back down to 25,000 Slingo Coins. Sorry!
We're sure you'll absolutely love the blend of luck and strategy we've made for you in Slingo Solitaire, so go have a taste right now. You'll never settle for regular old solitaire again!
he object is to move all the cards in the deck to the four piles at the top of the game with each pile having a single suit and being ordered from Ace to King. Click on the deck located on the top left to reveal new cards. Individual cards or face-up stacks may be dragged and placed below any other face-up cards, providing the value is one lower and their suit is a different color than the one they are being placed upon. Drag Aces to the top four squares to build piles. Cards placed in the squares earn:
1st square = 400 points
2nd square = 300 points
3rd square = 200 points
4th square = 100 points
Once all of the cards are removed from the deck in the upper left corner an "I'm done" Button will appear, you must click this button to draw the next deck. Once you finish all four piles at the top, you will be awarded a progressive bonus that starts at 25,000 points. After each game played without a successful Solitaire, your current score (times 10) is added to the progressive until a Solitaire is achieved. When a progressive is won, the next game resets to 25,000 points. If no Solitaire is achieved, the "Total Score" for all 10 Rounds is your final score.