Take a trip to the water park in this totally radical slots adventure! Catch some rays, ride the lazy river, and hit some gnarly jackpots in Slingo Splash Slots!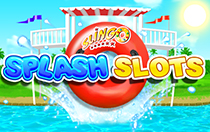 Gameplay
It's time to spin the reels and make some coin. Throw down the credits, spin those reels and see what riches the Water Park brings ya!
Scoring
Yo, you need to make three symbols on the reels. If you do, you'll get the motherload of Slingo coins. Remember, the more coins you bet, the more bodacious your payout will be.
So, let's say you throw down 100 wicked Slingo coins – MAXIMUM BETTAGE! This is the payout you'd get back:
Any 3 Sevens – 1,000 Coins
3 Wilds – 1,000 Coins
3 Towels – 2,000 Coins
3 Flip Flops – 2,000 Coins
3 Tanning Oils – 2,000 Coins
3 Red Sevens – 3,000 Coins
3 Orange Sevens – 3,000 Coins
3 Blue Sevens – 5,000 Coins
3 Pink Sevens – 5,000 Coins
3 Devils – 10,000 Coins
3 Jokers – 15,000 Coins
3 Cherubs – 25,000 Coins
3 Free Spins – Free Spins!
3 Park Passes – Pick 'Em Bonus Game!
Remember dudes and dudettes, throw down more loot to multiply your winnings. For example, if you bet 100 big ones on a spin and get 3 Cherubs, that's a sweet 25,000 Slingo Coins in your pocket!
Free spins mode
Brosiah, if you spin up three righteous Free Spin symbols, you'll trigger a spintacular free spin bonus mode. Every time you spin up three Free Spin symbols, you'll bag between 3 and 6 killer free spins, jeah!
While the free spin bonus mode is crashin, you'll be cashin out! Each time the Joker or Cherub surf the curl past your reels, you'll get a free spin and the winnings are all yours! Totally wicked!
Pick 'Em Bonus
Every once in a blue moon, you'll hit a totally tubular spin and get three Park Passes. This is your ticket to ride, boss! Once you trigger the Pick' Em Bonus, you just need to pick a tube. Based on who comes out, you'll earn the following cheese:
Devil – 10,000 Slingo Coins
Joker – 25,000 Slingo Coins
Cherub – 100,000 Slingo Coins…woahhhhh…
So find that Bunny my legends. AKAW!