Shed the stress of your day and the worries of the world as you step into the garden of Zen Match. Slide polished stones through fine sand as you take in the calming music and serene soundscape of a peaceful palace.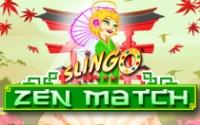 How to play
Create as many matches as possible to score points before you run out of turns.
Click and drag a stone towards another stone to flip the two stones. The goal is to create a match of 3 or more of the same type of stone. Creating a match that is longer than 3 will create Falling Stars.
Mouse over a Falling Star to collect it. Try to collect as many Falling Stars as possible. Use Falling Stars to earn spins on the Prize Wheel after each round.
The Game Buttons
Blast – Removes 4 random stones, but takes 2 moves
Hint – Shows a possible match. Only once per game.
Scoring
Each matching stone: 1,000 Points
Launching a Falling Star: 2,000 Points
Collecting a Falling Star: 2,500 Points
Create a chain to rack up even more points! If a single flip creates more than one match, the score multiplier
increases by one for each match beyond the first.
Meet the Daily Challenge Score and receive double the number of stars.
Power-Ups
There are three Power-Ups available while playing the game:
JOKER – Removes a 3×3 block of stones
SUPER JOKER – Removes an entire vertical and horizontal line of stones
TWIKI – Remove an entire horizontal line of stones
You can buy more Power-Ups after each round after you spin the Prize Wheel.
Prize wheel
You can spin the Prize Wheel to earn gold. You can use gold to buy Power-Ups. You will receive a minimum of one spin on
the Prize Wheel after each round:
2 Spins: Collect 5 or more stars
3 Spins: Collect 50 or more stars
4 Spins: Collect 95 or more stars