Super Keno Means Super Fun!
Super Keno gives you the chance to win big – and by big, we mean REALLY big. If you hit the jackpot in Super Keno, you can win up to 1,000,000 of those shiny Slingo Coins and catapult yourself up into the ranks of Slingonaires!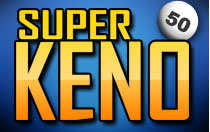 In Super Keno, you can choose up to fifteen lucky numbers to mark on your card. Pick 'em any way you like, or if you can't make up your mind today, let the Quick Pick choose for you. (But if you're afraid of commitment, just relax – you get a chance to change your numbers around in between every round.)
On each round of Super Keno, you can bet from 5 to 20 credits. Then click Play to see the winning numbers pop up. You win if at least three of the balls that come up are matches for your numbers – and the more you match, the more you win! You'll also get up to five Bonus Balls, which increases your chance of winning even more!
But what do you have to do to hit that 1,000,000 Slingo coin jackpot? Easy! If the Super Keno balls come up and hit every one of your numbers, you take home an avalanche of Slingo coins, and win bragging rights to your friends for weeks to come!
So why don't you get to playing Super Keno right now? All you have to do is pick your numbers, and the fun won't stop as long as you keep playing!
Playing Super Keno
To get the game started, click on the "Start Game" button at the bottom of the menu. Choose from 1 to 15 numbers (of the 80 total numbers) by clicking on them with your mouse. Or, you can let the computer choose numbers for you by clicking on the number of selections you wish to make below the "Quick Pick" label. Bet from 5 to 20 credits by clicking on the Bet 5 or Bet Max buttons. The pay-table will then display the payouts for the game. Press the "Clear" button if you wish to change you mind about your bets or number selection. You can toggle the speed at which the numbers will be drawn by clicking on the speed you want below the "Speed" label. When you are satisfied with your bets and your number selections, click on the "PLAY" button and the game will draw the winning numbers. Once the first 20 numbers have been drawn, 0 to 5 Bonus Numbers may also be drawn depending on the random Bonus Counter. You will then be awarded based on the number of matches that were made between the selection you made and the winning numbers. If you want to play the same numbers and the same bet again, click on the "PLAY" button again. After each 10 games, your current winnings will be recorded at Slingo.com.