Point Your Lucky Finger to Super Lemur Slots!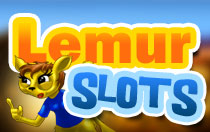 You're going to be thrilled to bits that you've found this free slot game. Super Lemur Slots is our most popular video slot game ever, and for good reason! We've worked hard to pack more fun into this game than ever before.
This exciting free game features all of your favorite Slingo characters – the joker, that no-good devil, and the sweet little cherub you've come to love. Match up enough jokers, coins and devils, and you'll be racking up Slingo coins to add to your stack in no time flat. Choose how many lines to play at once, from one to as many as 12. You can bet from one to 20 Slingo coins per line, for a maximum bet of 240 Slingo coins on each spin.
But it wouldn't be a Slingo game if that was all there was to it. On some spins, you might get a surprise chance to play a mini bonus game and boost your payout even higher. And with every game you play, there's always the chance your luck will really shine and you'll hit the jackpot!
Why wish you were on your way to Vegas when you can have all the fun of slots at home in your most comfy pajamas (and for free, too)? Give your lucky clicking finger a good wiggle to warm it up, then come on in to play this Slingolutely fantastic free slot game. Find out for yourself what all the fuss is about and play a few rounds of the most popular of Slingo's free slot games!