Can you make more Slingos than the computer? Enter a 3D world with six sides of Slingo fun and play our Slingo Super Cube puzzle game. Challenge S.A.L.B.O.T. (Simulated Artificial Life Built for Outright Thought) and make Slingos (five selections in a vertical, horizontal or diagonal row) and patterns like all four corners, a diamond outline or marking off a square on every side of the cube by choosing squares on a three-dimensional game cube.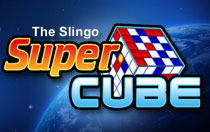 To make this puzzle game more interesting you can roll the cube to reveal one of six sides and continue playing. Choose the right square and you'll uncover power ups like Free Turn, Free Roll of the cube, Gold Coins or the Slingo Joker, who mixes things up by spinning the puzzle game cube. Watch out, beneath some squares lurks the dreaded Slingo Devil. He could steal your points unless the Slingo Cherub saves your butt.
Think outside the puzzle cube. Why just get five in a row when you can go for pattern bonuses? Mark off four corners on a cube face and get the Four Corner Game Bonus. Make a diamond shape pattern or mark off a square on every side of the cube for more bonuses. If you're a serious out-of-the-cube thinker and up for a good puzzle challenge, use Bounce Slingos that go around the game cube to get more points. Bounce Slingos start on one edge and connect diagonally to another cube side, then bounce on, to finish on the opposite side of the cube face it started on.
Six sides of Slingo puzzle fun too easy for you? Then play against the D.i.R.T.Y.B.O.T. (Diabolic Robot Trying Yieldlessly to Beat Opponents Thoroughly) if you're up to it. Be warned though, he holds no punches so you might want to warm up with easy and medium game mode before taking him on.