Start Your Engine for Word Race!
Slingo's Word Race online game is the hottest online word game around! Take a few laps with it and in no time you'll be zooming into a grand prize of Slingo Coins for your victory!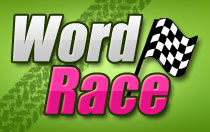 Are you new to Word Race? In this online game you get a group of letters. Your job is to work out a bunch of 3, 4, 5, and even 6 letter words to spell with them – as many as you possibly can. Each correct word you successfully unscramble will let you speed ahead of the competition. But work fast, you only get 90 seconds to unscramble as many words as you can. There's still hope though, for each correct word you enter, we'll give you a little extra time on the clock, so keep going as fast as you can!
If you get 40% or more of the possible letter combinations that result in real, common words, you'll get to move on to the next lap of the Word Race. You also earn a special bonus for finishing each lap with 40%, 70% and of course 100% of all the words. The better you do, the bigger the bonus. If you get all of the words right, the bonus is a whopping 1000 times the lap number you're on – which means a heck of a lot of Slingo Coins in your pockets!
So come and challenge yourself with our Word Race online game right now. Get your motor running, have a fabulous time, and win big, too!
Description
Fire up those engines – It's Word Race! A word has been jumbled and it is up to you to race against the clock and to take those letters and combine them into words. You can make 3, 4, 5 and 6 letter words. Your score is based on how many letters are used, and your position is based on how many words you used.
Gameplay
Type in words and hit the "Enter" key to zoom ahead. Use the "Backspace" key to erase any typos. A correct word will reveal itself in the blue boxes and allow you to zoom ahead. Sometimes you will get the "Caution" flag when you type in a word that isn't on the list. The caution flag will slow the game down and affect the clock. You are given 90 seconds to find as many words as you can. You can only take a pit stop (pause) between laps so keep an eye on the clock. Each correct word will give you 4 extra seconds per letter in that word. The race clock can only show the current 90 seconds, as well as an extra 90 seconds in a second color. If you earn time above 180 seconds, the clock will stop moving and "Bonus Time Freeze" will appear. Once your extra time above 180 seconds has been used, the clock will start moving again. To continue to the next Lap you have to place in one of the top 3 positions. If you believe you cannot make any more words and you are already in at least 3rd place, just hit the DONE button to pull into the pit and end the Lap.
Scramble
The scramble button rearranges the jumble so that you might catch different combinations of words easily. Not all possible words will be available. Proper nouns, words with accents or non-English characters and obscene words will not be accepted and you will get the Caution Flag. Generally, the most common 3, 4, 5 and 6 letter words will be accepted.
Scoring
Scoring is based on the amount of letters in your words and what Lap you are on. Each letter has a base value of 100 points which you add the lap number to. At Lap 1, each letter used to make a word has a value of 101 points. As you progress in the race, that value increases by 1 each Lap. So on Lap 60, each letter used will be worth 160 points.
Bonuses
1st place (you need to get all of the words) Bonus: 1000x the lap number
2nd place (you need to get 70% or more of the words) Bonus: 500x the lap number
3rd place (you need to get 40% or more of the words) Bonus: 250x the lap number
Game end
If you fail to qualify, the race is over and your current score is recorded. You can then start from the first Lap again or quit.
How many Laps are there? We aren't telling. The fun is to find out how far you can get.