Pull out your deck and whip out your winning hand in Slingo Royal Rush! Play cards in this unique take on the Slingo gameplay. Pull out a deck and match your poker cards to those on the 5×5 grid, get 5 in a row to get some slingos! Not only do you have the chance to get slingos, you also have the chance to draw certain poker hands, allowing you to deal out some wins! Playing slingos will get you a multiplier based on how many there are. With a good hand in your grasp and confidence to maintain the greatest of poker faces, you'll get those wins with Royal Rush.
Shuffle twice and shuffle well…
Select your bet, tap DEAL and watch the cards shuffle into your reel. 10 spins are available to you, which you'll need to fill out poker hands and mark the grid. Slingos will give an increased multiplier for every step up the win ladder, whilst having poker hands will get you wins!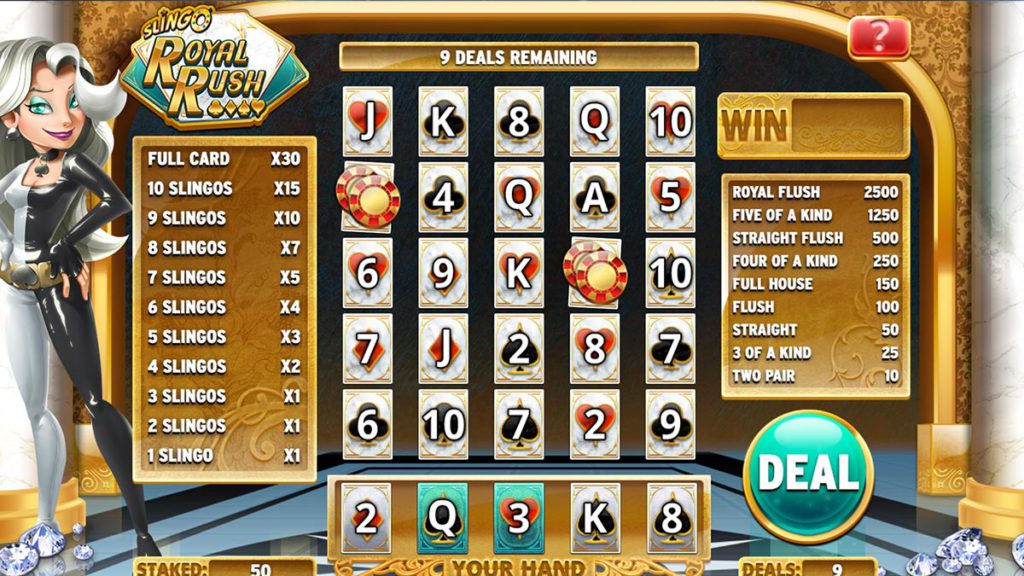 Ready your poker face.
You'll be playing with Jokers and Super Jokers who'll help out by marking off any card in the row above and eliminating any card from the entire grid respectively whilst both being wild for poker hands! A Free Deal card will grant an extra deal, whilst Devils will play against you – blocking potential matches.
With a max multiplier of 1500x your initial bet and the opportunity to buy extra deals at the end of the game your wins are all in your hands in Slingo Royal Rush!